Business delivery service is growing rapidly growing industry that is expected to grow at a rate of 8.2% in 2022 and reach a market size, measured by revenue, of $149.6 billion in 2022.
It is an industry that has shown fast growth, and the market size of this industry has increased faster than the transportation and warehousing sector.
All online businesses rely heavily on delivery services, and due to the rise in online businesses, delivery business is also seeing exponential growth year on year. More and more delivery businesses are required daily to fulfill the demand of this aggressively growing industry.
If you've been considering starting your own delivery business, now might be a good time to do it. You might have a number of questions about it, though.
In this article, we will shed light on how you can start a small business delivery service.
What Are the Types of Small Business Delivery Services?
When it comes to business delivery services, the options are unlimited. There are multiple types of profitable delivery businesses that you can start and embark on your business journey. Here are some of the most well-known delivery services.
1. Courier services
Courier services are necessary for most businesses. Whether it be B2B or B2C, all businesses need courier services. The E-commerce market is growing rapidly, and with it, the demand for more delivery services. It is one of the most successful forms of delivery service. Not just businesses but individuals also require to send and receive parcels.
If you are looking to start a courier service, start small. Start with deliveries within a county or a state and grow from there. Doing so will require less capital, and expansion can be planned out as the business grows.
2. Food delivery business
Food delivery services are a market growing daily, and it is one of the types of delivery businesses that will require fewer resources. Since food delivery is a business confined to a city, the resources required will be minimal, and if you utilize the best available tools, the profits will be higher.
The only major obstacle here would be to plan our deliveries to decrease your operational cost and increase the profits. This can be done using intelligent route planning software, which will do all the hard work for you.
3. Medicine delivery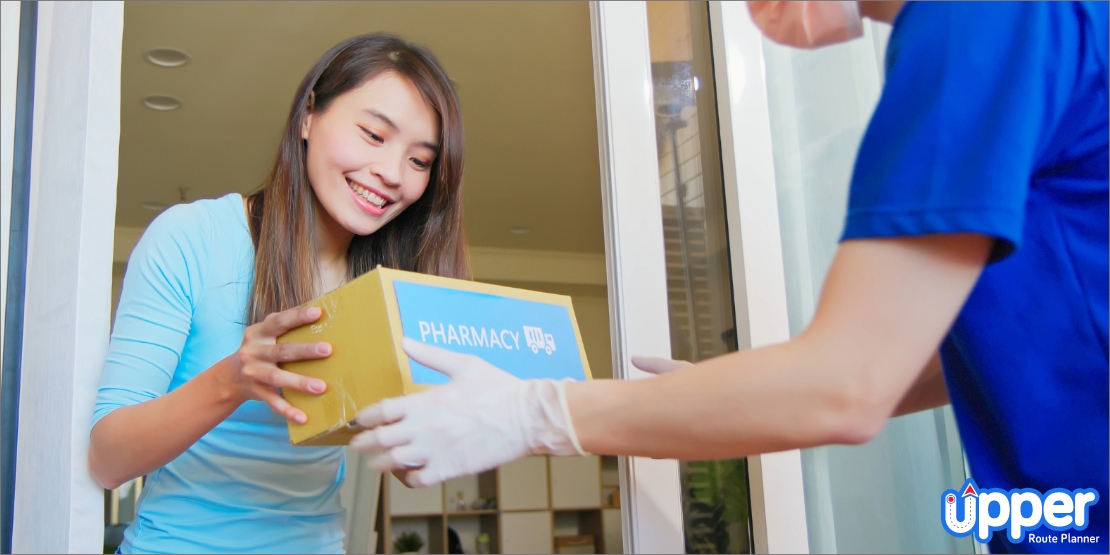 The medical courier business is estimated to be $7.1 billion and is forecasted to grow at a rate of 5.5% over the next 5 years. This service includes not just delivering medicines but also lab specimens, laboratory equipment, surgical equipment, and many others. You can begin catering to local customers and expand as the revenue increases.
4. Groceries delivery
Grocery delivery is one of the most profitable business delivery services with the most recurring customers. The customer base will keep expanding if the products are of high quality and the customer experience is outstanding.
What Are Some Delivery Challenges that Small Businesses Face?
There are multiple challenges that delivery companies may face in the delivery business. These can be related to day-to-day operations, resource management, delivery fee, or delivery drivers. Here are some of the obstacles delivery companies may face.
1. Route planning
If not done correctly, route planning can be the most troubling part of a delivery business. Moreover, it is a process that takes hours to complete. This task can get more complex if you don't have any experience, especially if you offer same-day delivery.
However, the right tool can help you reduce the time and optimize multiple routes to fulfill more deliveries and increase profitability.
2. Dependency on human resources
Delivery business depends highly on human resources. Hiring a large team to fulfill the delivery demands can become a challenge. A large team means a higher operational cost. Without proper management, a delivery business may lose more money than it will make.
3. Delayed deliveries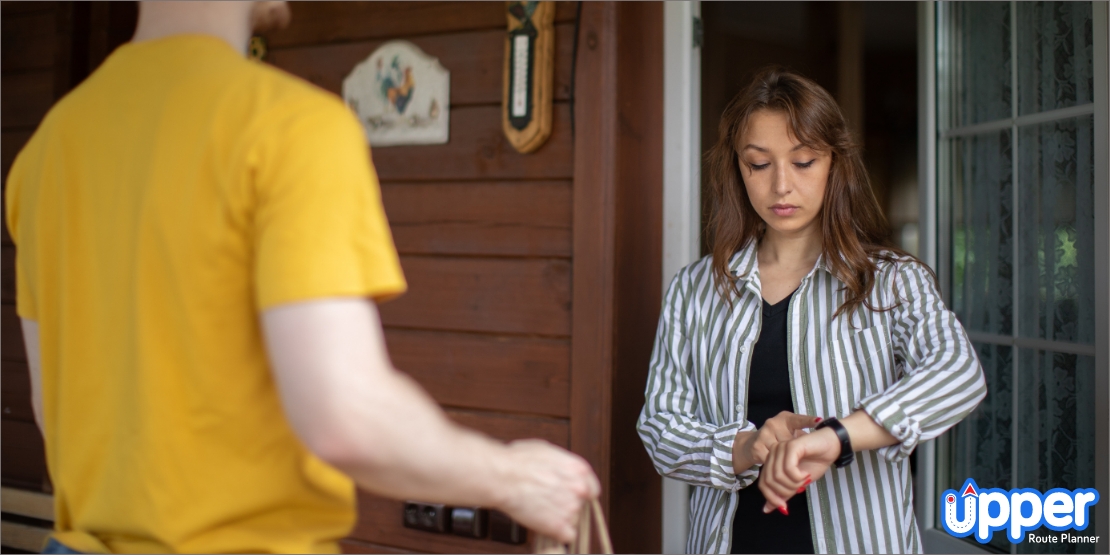 A delay in delivery can lead to a bad customer experience and even loss of clientele. Delays can happen due to an error in planning, the delivery person, or any technical issues in the delivery vehicle.
4. Without damage delivery
Any delivery business needs to make sure the product is not damaged. Any damage to the product can lead to a bad customer experience, and the business may be liable to pay the price at times.
Delivery Options for a Small Business
If you are deciding on an option for your business, make sure you understand each method's pros and cons before you choose the one for you. Put your mind at ease and go through the options below to find your answers.
1. Outsourcing to a third-party delivery service
In this method, the delivery service is outsourced to a third party. This may seem like a viable option to small business owners, but third-party service comes with its issues. For instance, the business will have no control over the shipping accuracy and shipping experience attached to it.
The situation may get even more complex if there are some additional parameters attached to the shipping. For example, if you run a grocery business, it is very clear that shipping should be instant since everybody wants fresh groceries. But if you have no control over delivery, it will be tough for you to ensure fast delivery. As a result, the business may lose customers.
2. Maintain control by optimizing your own delivery
If you are a small business, optimizing delivery by yourself may be the best bet using an in-house delivery service. It will help you to have full control over the delivery and will help you to create a better experience for your customer base. Many businesses are now choosing this option and are fulfilling delivery orders faster without paying additional fees to third-party delivery services.
Steps to Start Your Small Business Delivery Service
Starting your own delivery business from scratch may seem strenuous, but with the right information and tools, you can start a new business and guide it toward profit. To make it easier, we have laid down the plan in the easy steps mentioned below.
1. Business plan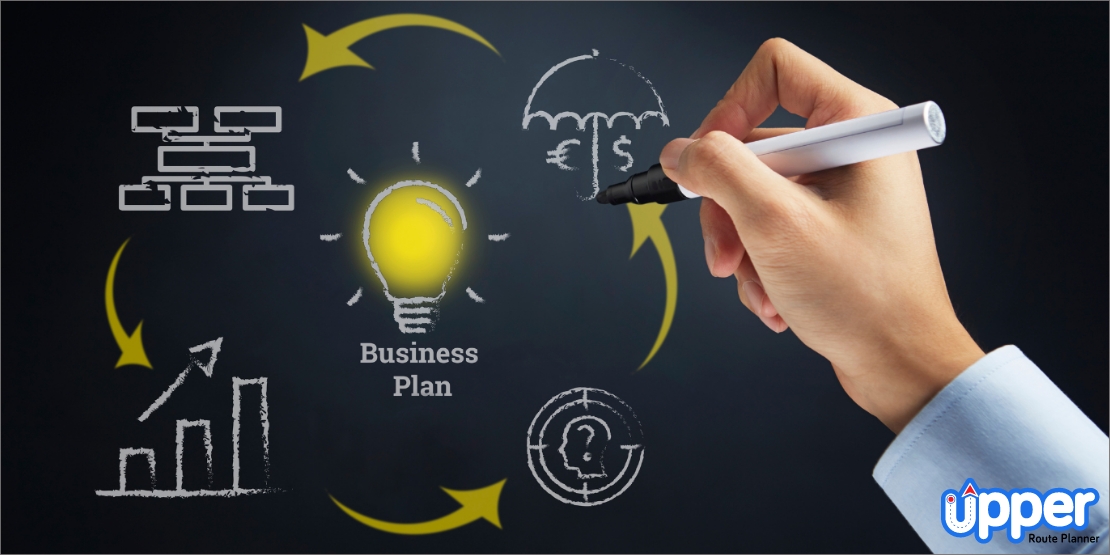 One of the essential parts of starting a business is creating a business plan by understanding the various aspects of a business. Any business plan should be designed through extensive research on the various business models and market research. Going the extra mile and studying the competitors will only help create a better and more solid business plan.
2. Take care of the legal aspect
A business needs to be registered with the local governing authorities. Ensure you understand all the legal implications of starting a business and registering your company. You will need to register for taxes, open a business account in the bank, and get the necessary licenses and permits. One important aspect is to get your business insured.
3. Designing a delivery process
The next important step is designing a delivery process. This extensive job will require expertise and knowledge of the delivery business. If someone new to the delivery business is trying to design a process, it may become a tedious job, and the chances of error will increase multiple-fold.
All the profit in a delivery business will depend on how well the delivery routes are planned. You wouldn't want to spend more on resources than you make by completing deliveries. A delivery business needs to run keeping in mind that the operational cost is as less as possible. The best possible results in a delivery business will only come if the delivery routes are planned efficiently and resources are utilized to the best of their capabilities.
If you are starting your delivery business, achieving such an optimal efficiency level may seem like a dream, but that's not true. We at upper have sworn an oath (literally) to help new business run in the most efficient manner possible.
Upper software comes equipped with a highly intelligent algorithm that will help you by reducing the time required to create an optimized route and create effective routes with multiple stops so you can fulfill more deliveries in less time. The properly optimized routes will not only help you in reducing fuel costs but will allow you to make more deliveries in a single trip.
4. Hiring drivers
The next crucial part is hiring drivers to do the delivery. Depending on your needs, you can start with a single driver or even hire multiple drivers. Many small businesses start with one or two drivers and increase their teams as revenue and demand grow. Many business owners resort to driving the vehicle by themselves to complete deliveries to keep operating cost low. Also, it helps them to get a better understanding of their business.
Deliver Parcels with Finesse through Upper's Route Optimization Planner
All delivery businesses thrive on efficiency. The more efficiency, the better the results. Efficiency comes by designing routes that will help you reduce delivery time and costs.
Even for people who have done this for years, it is a very time taking process and is prone to errors. So, starting your new business may need more expertise, time, or resources to pull this off. Don't worry if you are a new delivery business owner facing the same issues, don't worry. We have got it covered.
We at Upper have successfully been able to help businesses solve the problem of efficiency. Our software is a one-stop destination for all your business-related needs. Upper would be your perfect companion for starting a delivery business.
1. Route planning
Upper software comes equipped with a powerful route-optimizing algorithm that helps create efficient routes for all your deliveries. It factors in the required multiple stops and designs the route so that the least time is required to complete the deliveries. This will help you to reduce the time required, and you will be able to complete more deliveries in less time.
The advantages are not restricted to that; an efficient route will also help you to utilize your resources to the fullest and will help to reduce costs as well.
2. One-click dispatch
Upper comes equipped with a one-click dispatch option by which you can send the routes with multiple stops to your drivers with just one click. In case of any issue with the driver, you can reassign the route to another driver so deliveries are completed without hassle.
3. Proof of delivery
This feature will help you collect signatures digitally and allow the drivers to click pictures as proof of delivery. It reduces the manual work, and the signature and the images are stored in the software for future use. Even in the case of unsuccessful deliveries, the driver can mention the reason for the same.
4. Upload with excel
Upper comes with a feature to add multiple through excel with one click. The software also identifies duplicate stops. If you want to keep the duplicate stop, you can, and if you want to erase the same, it can be done in a jiffy.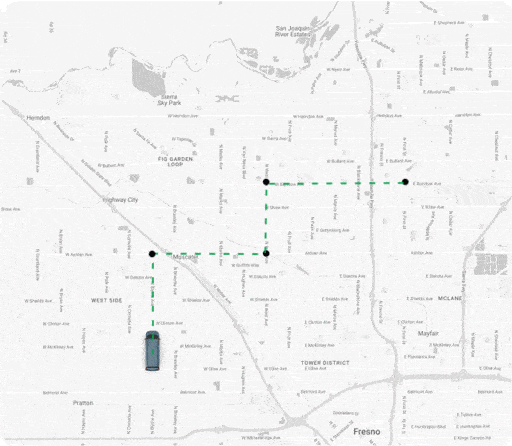 FAQs
There are multiple delivery businesses that can be operated on a local level. A few of them are mentioned below
Medicine delivery

Grocery delivery

Food delivery

Alcohol delivery

Laundry delivery
To increase revenue, you need to reduce the shipping costs and plan the deliveries to allow you to fulfill more deliveries in less time. Make sure the resources are utilized.
Marketing plays an important aspect in any business. To acquire potential customers, you will need to offer multiple features like one-day delivery, on-demand delivery, first delivery free, and offer delivery at less price.
Conclusion
Starting any business is a grueling task. You need to have a proper plan and execute the same to perfection with the help of the right tools. The delivery business is one of the most rapidly growing sectors, which has tremendous potential, and you, too, can tap into it with the right mentality. As a business owner, you need to make sure to focus on the present and plan.
The profitability of a delivery business will depend on how efficiently planning and optimizing are done. Upper takes away the stressful hours you may have to put in for planning. Upper can help you plan and optimize to focus more on running and expanding your business.