In this era of the covid-19 pandemic, the question often googled is "How to start your own delivery business?" Considering that much of the economy has shifted to online, touchless, and mobile, this way of doing business is rising. According to Statista, the number of digital buyers worldwide is said to cross 2.14 billion people. So there will be more online businesses serving these customers.
This article will explore some critical components to ensuring you succeed when you start a delivery service: the crucial question of route optimization. Many things can go wrong in a delivery service business, and slow and untimely deliveries are the most significant risk. This article will look at how you can reduce the startup risk and increase your chance of success for your small business.
4 Top Trends in Direct-to-Consumer Services since Covid 19
There are a significant number of trends defining the Covid-19. Aside from the social ramifications and the changing social contract, the rise in delivery services is front and center. Below are some of the main changes noticed by business owners: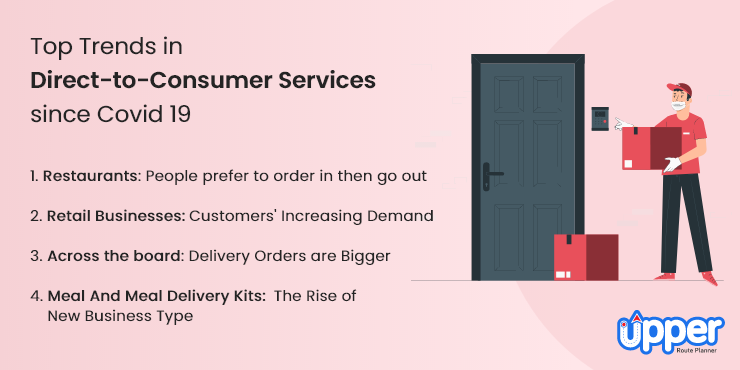 1 – Restaurants: People prefer to order in than go out
In terms of food orders, clients opt to get home delivery, either with Uber eats or some local delivery services. Due to this increasing demand, businesses put many resources into expanding on-demand support, deliver food, and offer a better logistics experience. Potential customers now will look to go mobile or online for their choice of delivery service. There is a preference for a restaurant-specific way of delivery if possible. If not, they go to third-party types of services.
2 – Retail Businesses: Customers' Increasing Demand
Retail also has a lot more delivery vehicles working to serve their customers. Old and new business alike are adapting their businesses to meet the new way of doing business. Some use a courier service by working with a courier business, and some have their cargo van, box truck, compact car, or pickup trucks and ship under the banner of their business name. These businesses also hire independent contractors so they do not have to pay for fuel costs, state permits, and other regulations. Regardless of the way you slice it, all retail shops need to make sure that the delivery service logistics are up to par with the customers' standards.
To grasp the opportunity of increasing demand, corporations like Amazon have partner programs. For example, the Amazon Delivery Service Partner program allows access to Amazon's technology and own name to develop hands-on leaders who are their own boss. Maybe these individuals cannot have their own businesses, but by being an Amazon Delivery Service Partner, they can be a part of a larger organization and the retail cycle. Amazon doesn't have to hire employees, instead it is creating partners.
3 – Across the board: Delivery Orders are Bigger
In terms of the restaurants and food orders, the orders are on average larger as well. This is true for all types of businesses, from food services, retails companies, and every kind of courier service – or courier services or business- that serves them. We see that the home and business delivery sectors have gone up a lot. And the size of the orders reflects that.
4 – Meal And Meal Delivery Kits: The Rise of New Business Type
A service that has seen many new customers has a high demand is the meal and the meal kits delivery services. This small business makes money by making meals (or meal kits) and selling to customers (often repeat customers). They either start a delivery service business or use a courier service or courier business to make deliveries. The startup fees for this kind of business are pretty low. Logistics is one of the things that need to be done correctly to ensure profitability.
To know more about meal kit delivery service business, the challenges and opportunities these businesses are faced with, read our blog Case Study: How to Start a Meal Kit Delivery Service
What is Involved When Starting a Delivery Service?
Many things are needed to launch a business. To perfect the delivery experience, the following is a short and not exhaustive list:
Liability insurance: You'll likely need some insurance, possibly liability insurance such as cargo insurance and vehicle insurance (pickup truck, hand truck, cargo vans) for your own delivery service vehicles.
Business plan: Like any company, you'll need to have a good name, data on the market, business cards, decide the prices (by order or flat-rate). You will have to decide whether you will have a sole proprietorship or a limited liability company. Get a business license. You will have to purchase or rent a space for commercial purposes.
Startup costs: Whether you're a service business serving others, or if you're starting a business for shipping yourself, you'll likely encounter some startup costs for equipment, vehicle, licensing, business insurance, etc., depending on the business model or business structure you choose. Money is the name of the game in business. And you'll likely need to invest some money to make money.
Equipment: You'll need to be sure you have the proper equipment for the part. This includes a cell phone, different types of delivery vehicles (car? Pickup truck?), hiring drivers or individual contractors, and likely a computer and other useful tools. You will be working on developing great teams and have to provide them hands-on training.
Marketing: You'll also need to have an idea of how you'll reach your potential customer base in marketing. This includes a website, maybe a decal on your car, business cards, social media platforms. The fact is, it is a lot of hard work to have your own business and advertising your name known around town.
For more information: Business Plan for Delivery Service: A How-To Guide for New Delivery Services
The 5 Biggest Risks When Launching a Business
Five significant risks need to be addressed when launching a company. We will name and list them below in no particular order.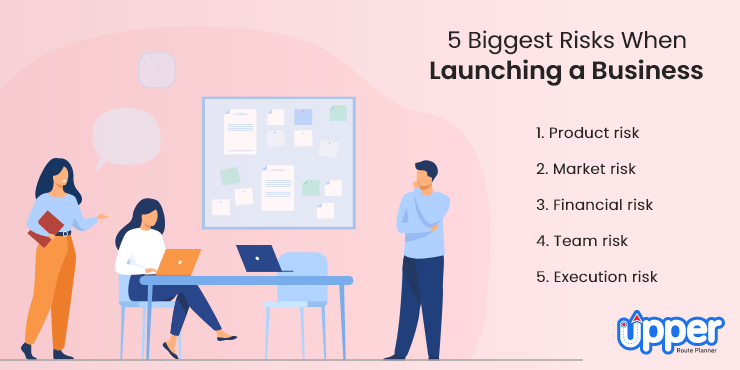 Product risk – This includes creating a product that you can present to customers, clearly helping them. Figure out your niche. This involves doing a good customer discovery and you need to know what the users' needs. From there, the entrepreneur is to craft an offering that meets the requirements. The more accessible part is to determine what you're selling. The more complex part is to explain it adequately.
Market risk – For this risk, you'll want to know the industry and know the more significant trends. For instance, is there an increase in the number of small businesses or the number of packages delivered in my town or area? Are there too many businesses offering the same service? Will it rise up or down? You want to avoid a situation like Blockbuster video when they doubled down in the video rental strategy as Netflix's direct streaming video appeared. You'll also want to do this in a proper market and customer analysis. It will provide you useful information about the next steps required to be taken in the business development process.
Financial risk – There are many tools for first-time entrepreneurs, such as Kickstarter and Indiegogo for funding startup costs and marketing expenses. However, for some, it may be friends and family that help them out. In all cases, as the entrepreneur, you want to incur low startup costs, minimize risk by outlining key milestones, the path to profitability, and a clear plan on how to achieve these milestones, even for a small delivery service business.
Team risk – It is impossible to know what will happen in business. It is, therefore, critical to surround yourself with a great team with the right balance of technical and strategic know-how. Mentors are also essential for reducing this type of risk.
Execution risk – This is perhaps the most significant risk. Many entrepreneurs fall in love with their idea and forget the intricate details of their business's successful execution. For a successful package delivery business, one of the critical portions of this execution falls in route planning and optimization in the delivery business where you are delivering products to the doorstep with fuel-efficient vehicles. Proper route planning helps in saving fuel costs per delivery.
This is what we'll cover in the next section.
Reduce Execution Risk with Route Optimization
As mentioned above, execution risk is a massive cause for failure in many types of businesses. In the case of a company dealing with deliveries, the most considerable risk deals with route planning and optimization.
What is the route optimization problem?
In 2 words, the route optimization problem is that no human can manually create the order of stops. This is because of what is called the "Travelling Salesman problem" – When you have ten or more stops, there are millions of possibilities, making it impossible for you to pick the correct route.
The importance of Route Optimization Software
This is why anyone who has multiple stops MUST use route optimization software. There are some decent free options like MapQuest Route Planner and Google Maps for local deliveries. These are, however, inadequate if you go above ten stops and for longer deliveries. One needs more robust software to ensure the operation runs smoothly.
Upper Route Planner for Your Route Optimization Needs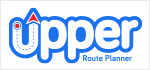 We strongly recommend using the Upper Route Planner when delivering parcels or packages. There are a few simple reasons for what makes Upper Route Planner a good choice.
It is easy to use and intuitive technology and interface
You can easily import and add addresses;
We are multi-platform – plan on the web and navigate your routes on your smartphones (iPhone or Android);
We are cost-effective and affordable technology (we scale in cost when you scale in revenues). This helps in improving the overall logistics experience;
Our technology helps you focus on more addresses and customers per hour;
We are very friendly ?
Plan quickly, deliver faster, delight customers and get home early.
Everyone deserves to have simple and easy route planning.
Avoid the Risk of Untimely Deliveries with Route Optimization
We hope this article helped you outline some of the risks inherent to starting a new delivery business and how you can overcome those risks. One of the major execution risk being not able to make timely deliveries. So for that you can rely on route optimization. We know that the covid-19 pandemic is here to stay and that companies will need to adapt. We are there to aid this growing industry. If there's anything we can do to help, we will. Please do not hesitate to contact us for any support. We wish you well, and as always: stay safe!