Getting new shipments and goods to your customers on time may be the most important function of your company. Customer satisfaction, route optimization, and reduced costs of new shipments depend on an efficient process, expertly planned and executed every time.
Technology can help you with your heavy lifting. With a logistics and deliveries app, you can update and optimize your entire supply chain and ensure customer satisfaction for every order you receive. In addition to that, you can add previously purchased deliveries, add estimated delivery dates, automatically detect tracking numbers, add multiple shipments, and track orders.
As there are various new technologies available, we'll look at what apps and systems can help with your fleet management and route planning tasks. Food delivery apps created more than $26 billion in revenues this year, showing that technology with new features can help drive up your profits and reduce costs for those deliveries.
Modern Technology Stacks for Logistics and Courier Companies
Product distribution depends on a modern technology stack that integrates with all your company processes and keeps everything in one place. The fulfillment process starts once you receive an order and need to plan your delivery strategy. This is especially true with last-mile delivery companies. So it is important to understand the significance of the delivery process.
The system you use should be cost-effective and provide you with excellent routing capabilities.
If you're manually planning your sales and delivery logistics every day, the following technologies may help you rethink your processes and help save you time and money.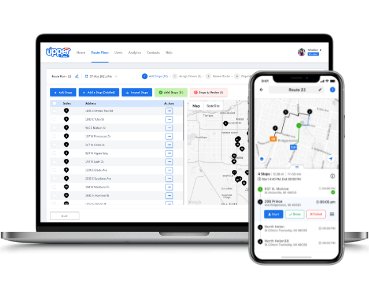 Upper Route Planner
A Simple-to-use route planner that every one is talking about.
Save up to 95% of planning time
Save up to 40% of time on the road
Plan 500 stops at once
No credit card details required
Order Capturing and Inventory Management
Whether you do business over the phone or get orders from an e-commerce site, the way you capture, update, and keep track of order details should be electronic. Converting emails into workflows while always getting the order right and automatically triggering the downstream processes is possible using an ordering app that helps the delivery business and supports inventory management.
Whatever app you use to capture orders, you'll want to ensure it's compatible with Android devices as well as iPhone, iPad, and Mac devices. From capturing your order information to notifying the right resources, you'll be able to automate most of your ordering and subsequent fulfillment processes with an app.
Planning and Optimizing Your Delivery Routes
The next element that you'll want to integrate with your ordering system is a route planner. Food delivery services will require real-time route optimization, while courier companies need a comprehensive delivery plan. Optimizing your delivery routes saves time, reduces costs, and improves customer satisfaction.
The planning and optimizing of your delivery routes must be easy with simple options like drag-and-drop and voice feature.
Not every route planning app can support your organization's needs and track the necessary information. You need to match major features with your needs. Some of the most common previously purchased apps do not help you plan your delivery drivers' multi-stop routes or include any fleet management features. Using a general route planner or route optimizer app for shipments and deliveries can frustrate your staff and add overheads while allowing errors to creep into your processes.
Using Analytics and Reports to Improve Processes
Using your deliveries app to keep track of your performance and generate detailed reports about past shipments and deliveries will give you additional insights. You can use this information to continuously optimize your processes and ensure you cut down on costs in the future.
Analytics will detail how many stops you made, give you the average time per stop, and track your drivers during every trip. If you want to know where you can improve your processes, you'll want to have clear insights into how you are currently performing.
Is There One App You Can Use for All Deliveries on Android, iPhone, iPad, Mac, and Apple Devices?
Integrating your company's ordering and delivery processes into one app can help you achieve new efficiencies. For small businesses, you'll want to have a solution that enables you to work from a spreadsheet or an online ordering service while optimizing your route planning to increase your revenues and reduce costly errors. This system must allow you to add new orders and deliveries, updating shipping status, track packages, and direct purchases, along route planning and optimization on different devices.
When choosing an app for all your needs, whether Apple Watch app, Amazon, or otherwise, one must consider the following five features.
1 – Easy Address Capturing and Bulk Input Services
Capturing the customer's address correctly is vital for any navigation or route planning solution. Automatic lookups and bulk imports should be included as standard features within the app you choose. This can be extremely useful for courier services, including UPS, FedEx, and others.
Location-based auto-detect of addresses will ensure you deliver to the right location every time. Simultaneously, quick imports of routes allow you to design the most efficient journey for every trip. Your chosen application should also come with error-free address input tools.
2 – Automatic Route Creation
Once you know where you need to go, your app should create your routes and consider elements like avoiding highways or toll roads. If you regularly drive the same routes, you should create an entry and quickly assign it to a driver.
You'll also want to optimize your routes to reduce distances and improve your delivery times. Using reports and past trips to plan your future shipments and deliveries in one app can save you time and money.
3 – Prioritize Specific Deliveries
The ability to prioritize certain stops and optimize the remaining multi-stop route from there is another factor you'll need to consider. Customizing routes according to your needs and the customer's expectations shouldn't require your drivers to override the application's recommendations.
The best route planning application will enable you to prioritize an address and delivery, ensuring you can keep your customers happy.
4 – Capture Customer Comments
Customer satisfaction remains your primary goal. By capturing comments and allowing clients to engage with your company and drivers, you can improve customer satisfaction and effectively manage feedback.
Your application developer should also consider your comments and give you the features that your customers expect. Choosing an app that supports your entire business model depends on keeping you and your customers satisfied.
5 – Multiple Device Support
Providing support for any operating system on different handsets and mobile devices will be key. Issuing your drivers with special package tracker devices that can also record their deliveries is no longer required. With a modern delivery interface, your drivers can use their personal devices while performing their duties.
Make sure to select a delivery and tracking app that integrates across all platforms, including web browser, iPhone, iPad, Mac, and Android devices. Offering a solution that both App Store and Google PlayStore support is important for the wide acceptance by the users.
For more information: Best Route Planner App for Delivery Drivers in 2022
---
FAQs
There are several options. The best route planner app will be the one that serves your specific purpose. You can choose from free route planner apps like Google Maps, Waze, and Mapquest. You can also choose from paid route planner apps like Upper Route Planner, Circuit Route Planner, and Optimoroute if you have more deliveries and want to create multiple routes for multiple drivers at once.
Couriers like Canada Post, US Postal Service, and other couriers services, including UPS, FedEx, and others, have their own delivery apps designed specifically for postal service. UPS uses an optimization platform called ORION to find the most optimal way to pick up and deliver packages.
---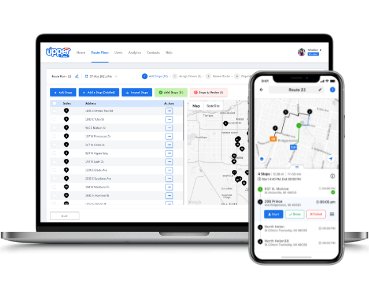 Upper Route Planner
A Simple-to-use route planner that every one is talking about.
Save up to 95% of planning time
Save up to 40% of time on the road
Plan 500 stops at once
No credit card details required
Spend Less Time on the Road with Upper Route Planner
Upper Route Planner is one of the simplest and most effective delivery apps. It provides you with all the features needed to optimize your shipment processes. From easy address capturing to creating navigations for your routes, our solution works across all platforms to help you save time and money. You can add multiple stops to your routes and find the most efficient sequence depending on your needs.
Capturing new routes and sharing the information with your drivers using Upper Route Planner helps you save time, improving your customer's satisfaction. You'll also be able to generate detailed reports, gather feedback, get complete backup, and use your order history and package tracking history to enhance your company's efficiency in the future. Although there currently is no drag and drop list of orders, you can track the list of packages delivered (a form of package tracker) by using the reporting tools. With error-proof address entry, smart location lookup, and automatic route optimization, Upper Route Planner is a single solution for all your needs across most devices with web access, including iPhone, iPad, Mac, and Android devices with a flexible subscription model and many more customization options that are sure to suit your needs.
Ensure you plan your delivery routes effectively with Upper Route Planner. Get started now and join those who have already purchased the app!