When we think of software to create a map or to plan a route in the 1990s, or early 2000s, we think fondly of Mapquest. It was a large and well-known company. At that time, they were one of the most famous brands in the US and owned practically 100% of the mapping online. As the team at UpperInc was preparing reviews of the many software out there, one question we had is the same as Washington Post was, "Does MapQuest still exist?" As the article will stat, it certainly does, and it's a profitable company.
We are not here today to talk about the profitability, but rather to explore to use the mapquest route planner with multiple stops. For this article, we will do a quick overview, we'll then show you how to add stops to your route, and we'll share some advantages and disadvantages. Let's get started!
Overview of Route Planning
What is route planning?
Route planning is about how to create driving directions or routes for many locations in the most efficient way. In short, many types of users or customers would use this type of software: couriers, last-mile delivery companies, field service companies, a food delivery small business owner, or many kinds of other small businesses.
You may also like to read:
What is Route Planning?
General Features
There is a long list of general features for a route planner. The type of functionality you will need will vary according to the use you want
Plotting a map with various locations;
Route options for each trip;
Traffic slow downs or traffic incidents;
Map options, such as satellite map or street view;
Navigation features;
Directions to different addresses;
Find points of interest such as hotels, coffee shops,
Dispatch features
Vehicle diagnostics and fleet management;
Import or export to Excel CSV.
How do You Add Multiple Stops on MapQuest on the Web?
Now it is time to look at a step by step process on how to use MapQuest!
How to Add Stops and Create the Route
There are many disadvantages to using this software (as you'll see below), but one thing the developers have done well is to be able to add several stops easily. One can add each location with a simple click. Let's go step by step!
Go to the website: Start by going to the website, and it should show something like this: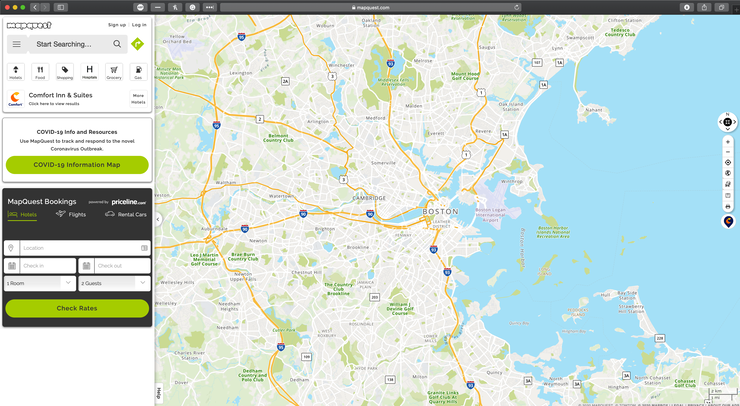 Now you want to add the first address in the address bar.
Once you've done that, you'll want to click the "Get Directions" button,
Then you can add your second address.
Following this, click "add stop."
From here, just type in the address of the third location, fourth location, and as many stops as you need!
Customize your Route
At this point, you can do some customization. Here are some customizations you can make to your map and route.
1 – Drag and Drop
The first thing you can do is drag and drop each location in the order that you want them. You'll see the map will adjust in consequence.
2 -Satellite map and traffic
On the right-hand side of the screen, you'll see menu options to toggle the map type to the satellite map. There is also a traffic menu to show traffic, slow downs, or traffic incidents.
Change to Satellite View:
Check for Traffic:
3 – Changing Route Options
Once you're done adding locations, you can toggle the route options. As you can see, you can toggle things like avoid highways, avoid toll roads, avoid ferries, avoid country borders, and much more.
4 – Optimization
Finally, users can use the optimization feature. Optimization will rearrange the results of the route on a new map. This map will show the route in an optimized manner.
How do you Add Multiple Stops on MapQuest on Mobile?
Did you know it also has a mobile app? As indicated by Wired, the mobile app is quite decent, offering a clean, easy-to-use design that gives you quick results on map searches. We will not delve into details on how to add stops or how to use the mobile version of the route planner. The steps are very similar to the actions we describe above. If anything, the mobile version of the route planner app is more intuitive for the small business owner.
When to use MapQuest?
So what's the verdict? Are we able to declare that we have a great mapquest multiple stop route planner? Can we say that the mapquest route optimizer is useful? These are a couple of right questions. By some accounts, this holds its own, but the problem is "when to use this tool versus another tool."
In this section, we'll look at the when to use this app.
When is it Appropriate?
A small business owner who wants to use a simple software may want to try this. They use it for road trips or simple delivery routes.
There are several advantages to be noted:
One edge of MapQuest over Google Maps is that it offers a map tool for people who don't want to be tracked;
Available on both Android and iOs;
Route directions are very accurate;
Excellent customer service team;
An integrated tool for quickly finding hotels and making reservations;
One-button tool for finding gas stations, grocery stores, coffee shops, shopping areas, food, and hotels like Comfort inn suites;
It includes routing and optimization (which is excellent for a free app)
It includes up to 20 stops;
It includes useful data like traffic slow downs, traffic incidents, and a satellite map feature.
When is it Not Appropriate?
This app, like all free route planner apps, is not appropriate for when you have more advanced usage. This app is not suitable if
if you work in last-mile delivery, or you make ten or more deliveries;
you want to track packages or drivers;
need for patience in specific formats;
Copy, size, and distance;
you wish to dispatch features;
you do vehicle diagnostics;
the need for a more advanced customer service team;
Clear trouble of ads;
Advanced use like icon link, mouse video paste, show labels, health report, reset map, URL format, and more;
If you do fleet management.
We have covered many more free route planner applications in other articles.
If you want more information check out:
Best Free Route Planner with Unlimited Stops in 2021
Plan quickly, deliver faster, delight customers and get home early.
Everyone deserves to have simple and easy route planning.
---
FAQs
Planning a route in MapQuest is very easy. To plan a route, you need to input your starting address simply. From there, you can click "Get directions" and input a second address. From there, simply click "add stop" to add as many stops as you need. If you want, you can even optimize your route with the optimization toggle. Conversely, you can manually change the order of the locations.
MapQuest has a few advantages over Google Maps. On the privacy front, it offers a map tool for people who don't want to reveal their data. Also, the mobile app boasts an excellent user experience and a route optimization feature not found in Google Maps. On the other hand, Google Maps has far more features and data sets integrated into its application. We encourage users to try both out and to choose which one best suits their situation.
---
Conclusion
In conclusion, we hope this was an exciting overview of MapQuest as a route planner. After our investigation, we think this app is in line with other free apps in its category in the sense that it does have a lot of excellent resources to help users input addresses, map them, and create routes. As for all free apps, the results are not adequate for a more advanced user. On a final note, we sincerely hope this content was useful to you, please let us know if you have questions or if we missed something. We love to hear from you.