Key Takeaways:
MapQuest is a web mapping service offering faetures like route planning for various locations, real-time traffic updates, weather forecasts, and street view updates for road conditions.
Due to less user-friendly interface MapQuest fails to meet specific business needs.
Upper Route Planner is best alternative to MapQuest because of its quick route planning and simple yet effective interface.
To offer location-based services, MapQuest has collaborated with several businesses.
MapQuest is a web mapping service that offers features such as planning routes for specific locations (even for more than one location), real-time traffic updates, weather reporting, road conditions updates through street view, and much more. 
Although MapQuest has existed for longer than most navigation apps, many essential and sought-after features are unavailable on MapQuest. This makes the application unreliable for businesses that carry out daily delivery. Since route accuracy is of utmost importance in delivery management, companies must consider more effective and alternative solutions to MapQuest.
Today we go through some potent MapQuest route planner alternatives that you must consider when employing a route planning software or mapping tool.
Why Should Delivery Businesses Look for an Alternative to MapQuest?
MapQuest, known for its powerful routing features such as real-time traffic route updates, weather updates, and more, lacks many critical features. Compared to the alternatives, MapQuest is short of specific features abundantly available in its competitors.
Here are some of the reasons why MapQuest fails to fulfill specific business needs:
Less user-friendly

This could be a big turn-off for businesses. With a challenging app interface, it becomes counter-productive to use MapQuest for smooth route planning.

Poor performance in remote areas

Network availability is unpredictable in remote parts of the country and MapQuest does not offer an offline map feature. This makes it difficult for drivers to deliver in low network coverage areas and this directly impacts the business performance.
As a business owner, careful examination of the available apps will show you that many delivery management applications do a much better job than MapQuest. You may also come across certain features in the alternatives mentioned below that you didn't even know you needed but will be a godsend for your business.
4 MapQuest Route Planner Alternatives
1. Upper Route Planner
Upper Route Planner is built especially for small businesses looking to revolutionize their delivery process. Unlike other navigation software solutions, Upper Route Planner is an intuitive delivery management software that takes care of all aspects of route planning and delivery. With an efficient and quick routing process and route optimization capabilities, the Upper Route Planner algorithm puts efficient delivery at the forefront.
Best Features:
Skyrocket productivity and save time

Upper Route Planner's robust algorithm allows you to cut down 95% of planning time. The routes produced this way are optimal and highly efficient.

Import Excel spreadsheet with multiple stops

Just import an Excel spreadsheet or a CSV file with all the stops, and Upper Route Planner will plan the entire route for you. You can plan routes with multiple stops or multiple routes as quickly and effectively as possible.

Reduce fuel and other costs

By optimizing the delivery route with Upper Route Planner, business owners can save up to 40% in vehicle fuel costs alone. Fuel is one of the most significant expenses in delivery, and implementing Upper Route Planner into your delivery process can save you heaps of business capital.

One-click dispatch

One important feature to note for delivery businesses is better communication within the team. With Upper Route Planner, you can send the routes to the delivery drivers and quickly dispatch them with just a click.

Schedule routes

With Upper Route Planner, route scheduling is now an easy task. You can plan and schedule orders months in advance. This is a brilliant feature for businesses with recurring, loyal customers.
Great For:
Businesses operating in the delivery niche like eCommerce, furniture delivery, food delivery, pharmaceutical delivery, flower delivery, HVAC services, retail services.
Pricing Model:
The Essential plan starts for just $80 per month for up to 3 drivers
The Growth plan starts for just $160 per month for up to 5 drivers
Contact them for Enterprise plan pricing details.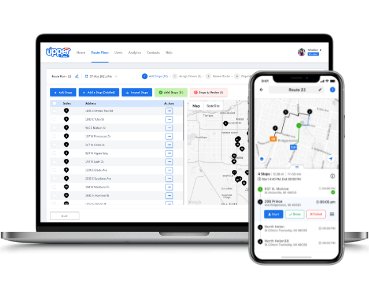 Upper Route Planner
A Simple-to-use route planner that every one is talking about.
Save up to 95% of planning time
Save up to 40% of time on the road
Plan 500 stops at once
2. Circuit Route Planner
Want to find the quickest and easiest way to find addresses, thereby saving you tons of time? Circuit may be the right solution for you. With Circuit, you don't have to leave anything to chance. Businesses benefit heavily from the performance this app offers. Delivery agents can also avoid wasting precious time idling in traffic to deliver orders faster and fulfill more orders in the day.
Best Features:
Unlimited stops and unlimited routes

With Circuit's interactive maps, businesses can plan routes with unlimited stops. Perfect for rapidly growing companies that are currently struggling to accommodate large amounts of daily orders.

Driver monitoring

Admins or dispatchers can easily track the whereabouts of the driver. Real-time updates of the driver allow you to see the ETA, order status, and more. The driver's app also easily reflects real-time updated routes by the dispatchers.

Proof of delivery

Delivery drivers can capture proof of delivery through electronic signatures, images or additional notes.

Customer communication made easy

Businesses can easily update awaiting customers with order status via SMS or email. This single step can vastly improve business operation transparency. Delivery confirmation also makes enhances customer experience and boosts customer satisfaction.
Great For:
Businesses operate in all kinds of courier management services.
Pricing Model:
Circuit Premium plan for $500/month for 10 drivers.
3. Google Maps
Google Maps is one of the OG technology for routing and navigation. Despite having a few drawbacks like navigation inaccuracies and insufficient optimization, many businesses continue to utilize it for their daily delivery purposes. It is indeed a worthy competitor to MapQuest.
Best Features:
Free of Cost

Google Maps' best feature is that its interactive maps are accessible by anyone. No subscription model or renewal is required to use it, making it ideal for businesses that start in the niche of delivery. The (iOS or Android) app is free to download and get started with, making it a no-cost investment.

Intuitive and quick response mobile app

The mobile app is highly intuitive and responsive. Traffic updates, road and weather conditions, and more are picked up by the algorithm and displayed in the Google street view quickly. This aids drivers to switch routes with much efficiency.

Vast locations are covered compared to MapQuest.

Compared to MapQuest, Google Maps' mapping service covers vast areas and more remote locations.

Familiar to everyone and businesses

Another feature of Google Maps is its familiarity. Most people are used to the interface of Google Maps, and this familiarity allows them to reach for the app when in need of navigation assistance.
Great For:
Personal navigation, startups, businesses in the early stages of delivery, businesses delivering locally.
Pricing Model:
4. Waze
Waze is a community-driven navigational application. It is free to download and use and monitors routes based on user movements and displays accurate traffic information. Its popularity among drivers is unrivaled as it uses user data to create routes and offer on-the-go navigation.
Best Features:
Turn-by-turn voice instructions

The Waze algorithm alerts users with voice guidance for route navigation. This makes navigating through traffic and other unforeseen obstacles an effortless endeavor—great for an excellent hands-free experience.

Offline maps availability

Most maps on Waze can be downloaded and used offline. It is an excellent feature for drivers delivering to remote locations. Offline maps do not offer real-time traffic information, but they can be used as a reference in low network areas.

User input data for the best accuracy

The Waze community or Wazers power the Waze app. The data collected from its users allows the algorithm to acquire real-time traffic updates and travel times. For instance, in a remote area, route information can be passed on by Wazers who are familiar with the terrain.

Essential information like sudden road closures is obtained from the community itself, which means the app is incredibly reliant.
Great For:
Startups, and delivery businesses like food delivery, retail, plumbing, and cleaning services.
Pricing Model:
Why is Upper Route Planner the Best Alternative to MapQuest
Quick route planning

Upper Route Planner is simply the most effective route planner out there today. Unlike other applications, in just a few simple steps, you can import a spreadsheet or CSV file with up to 500 stops, and the algorithm will do all the heavy lifting for you.

Simple yet effective interface

Not only is it an effective solution to your routing problems, but the simple interface also makes using the app a satisfying experience. The application is designed to be intuitive and functional simultaneously–without any fluff.

Easy Route optimization

Upper Route Planner considers several factors for selecting the optimal route. These factors include weather conditions, road conditions, order priority, driver availability, traffic blocks, and more.

Proof of Delivery

Unlike apps like MapQuest, Upper Route Planner offers businesses a proof of delivery feature. The delivery personnel can collect and submit digital signatures, images and add additional notes for further clarity.

Powerful Analytics and Reports

Upper Route Planner also offers powerful analytic capabilities. Administrators can generate customized daily, weekly and monthly reports to analyze drivers' performance.

This serves as a morale-boosting function as drivers can assess the daily pitfalls they run into during delivery and take measures to rectify them. Business owners can also evaluate what processes work and what needs improvement.
Conclusion
Hopefully, this article has expanded you to the vast opportunities that exist in the form of alternate technology for MapQuest.
Delivery businesses need to realize that leveraging delivery management systems is the easiest and most effective way to scale your business to better heights.
Today's technology scene is filled with innovative and lucrative solutions for businesses. Route planning and optimizing solutions have moved from being a nice-to-have system to an integral solution that fills the gaps in business operations. Implementing a proper delivery strategy coupled with robust delivery management software can do wonders for your delivery business.
All you can do is give Upper Route Planner a try by starting a 7-day free trial and exploring how it benefits your business in route planning, optimizing, and dispatching.