It could be easy to plan a route map for a single depot multiple drivers, but if you have multiple depots for drivers, it would be a difficult job. Similarly, mapping multiple routes is challenging for many business owners as they need to consider unlimited road constraints.
Therefore, being an owner, you may feel a need for routing optimization software to manage delivery operations. Do you experience delivery hassles in daily life too? Worry not, in this blog, we will answer queries related to the Multiple Depot Multiple Driver Route Planning.
Definition of Multiple Depot Multi-driver Route Planning
Businesses with goods and products stored in multiple depots need different drivers to deliver the purchased items. A process to find an effective route to perform multiple deliveries from different depots is known as multi-stop route planning.
To manage such delivery operations, businesses need support from mapping software to direct their drivers on the optimized routes. Those who have multiple depots will know how difficult it is to carry out deliveries in numbers. While planning routes for such a large delivery process, it is likely that you might ruin the entire route plan.
So, what would be the better way to manage delivery services? – Google Maps? It may or may not help you plan route optimization for multi-depot. The next section will see what obstacles you may get if you try planning multiple routes on GMaps.
What Are The Challenges of Planning Routes on Google Maps?
Google Maps is the first pick of many owners to map delivery routes. But not many of them know that the Google-powered mapping platform offers limited features for route optimization for multiple deliveries.
The below challenges prove that Google Maps is not made for multi-depot routing for logistics and transportation.
On Google Maps, you need to manually enter the source and destination addresses for every single delivery. This means you will take more than usual to plan and optimize routes.
The route mapping platform does not provide driver-side assistance, so you need to call them individually if you need to send important updates.
It does not allow you to add more than 10 stops for multiple deliveries. So, if you want to plan deliveries in thousands or hundreds, you will have to choose a different way. Check out here how to plan a route with multiple stops on Google Maps.
It generates routes without considering road constraints. And therefore, if required, your driver may have to change the route mid-way through the delivery process.
There is no such feature on GMaps that can automatically reoptimize the route if you have canceled orders or delays. Hence, those with frequent last-minute changes should go after routing software instead of using Google Maps.
The popular mapping platform does not make arrangements according to the specific delivery time windows. So, if your client asks you to arrive between a preferred delivery time window, you need to find an alternate way.
An advanced routing software could be the right option to plan a multi-stop delivery route to tackle these challenges. So, let's see how does it work?
How to Plan Multiple Stops Using Route Planner?
The online route planner software helps you plan and optimize routes instantly. Also, it's easier to use for delivery drivers as they just need to follow the route link. The delivery route planning app will direct them to the shortest route, which means quicker delivery.
Below is how the Upper Route Planner works as a multi-drop route planner.
Step 1 – Once logged in, enter the start point and endpoint for a new route plan. Then, you can add delivery crew members from the user option.
Step 2 – Generate a spreadsheet with delivery stops, customer details, contact numbers, and other necessary parameters. – Generate a spreadsheet with delivery stops, customer details, contact numbers, and other necessary parameters.
Step 3 – Now, switch to route plans and tap the 'create a route plan' button to drag and drop the file.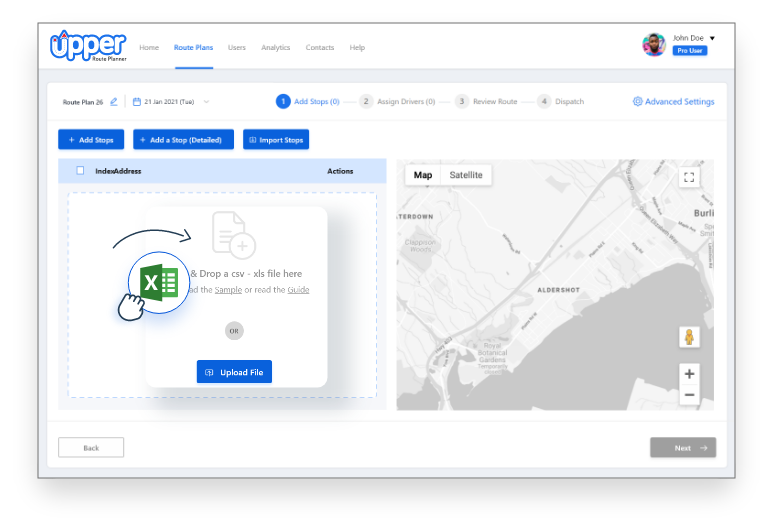 Step 4 – Then, it will automatically import the data and generate an optimized route plan.
In this process, you can review the duplicate addresses or rearrange pickups and deliveries as per your wish. It allows you to set driver preferences like considering highways or toll booths while optimizing routes.
Besides planning and optimizing routes, let us check out the additional features of the Upper Route Planner.
Additional Features of Upper Route Planner
1. Driver app:
It lets the driver check the package's scheduled deliveries and dispatch status. It will show the shortest route for drivers to reach the delivery stop.
2. Delivery instructions:
It gives an option for the customer to mention the necessary delivery notes. These instructions will be directly notified to the delivery driver.
3. Proof of delivery: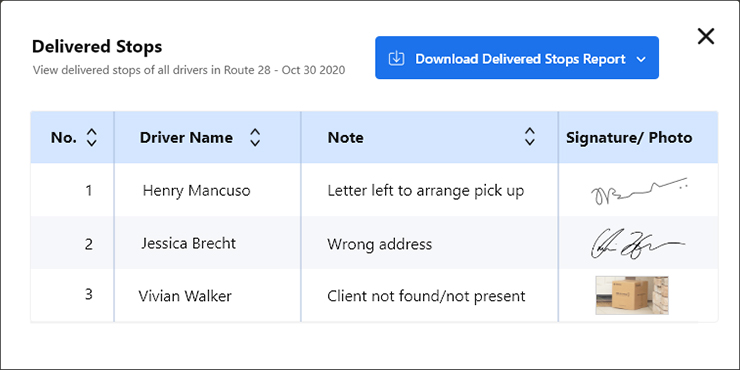 If the driver makes successful delivery, they can record the delivery proof or add images of the delivered product.
4. Reports and analytics:
The online route planner assists you in analyzing the report based on the past and current deliveries.
5. Automated delivery notifications:
The admin can customize the delivery notifications and send them to their clients. It will help your clients know the updated delivery status.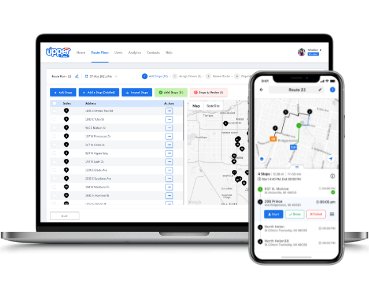 Upper Route Planner
A Simple-to-use route planner that every one is talking about.
Save up to 95% of planning time
Save up to 40% of time on the road
Plan 500 stops at once
---
FAQs
Google Maps is best used for route mapping for the small size businesses. Being on GMaps, you can not add more than 10 stops for your delivery operations. So, if you are planning for multiple deliveries in hundreds or thousands, you should go with the online route generator.
Yes, Upper takes less than a minute to reoptimize the entire route whenever needed. For instance, if your client tells you to deliver the product the next day, the system will automatically reopen the route and direct the driver to the next delivery stop.
Route planner helps you perform delivery faster but also assists you in analyzing reports, driver performance, and their availability. So, if you are into the delivery business for a while, you will need the right multi-stop route planner to eradicate delivery chaos. Hence, routing software could be your virtual assistant for a long time.
Map Multiple Stops With Upper Route Planner
Planning efficient routes for multiple delivery stops is not easy if done manually. As a business owner, you must get the right route planning software to plan the routes quickly. We understood how Google Maps offers limited features to generate the route plan.
On the other hand, an online route generator could be a handy tool for the owners managing thousands of deliveries per day. If you are willing to come out of the multiple delivery issues, we recommend you start a FREE trial at Upper to find the most efficient route for your delivery business.