If you are reading this blog, you have probably already figured out the business idea you want to work on.
Right?
Now, you just need the right set of tools and information to get you going in your delivery business journey.
You must be wondering and having a question in your mind: How to start a delivery business?
For that purpose, we have compiled this blog to help you guide through some of the significant steps that you should keep in mind before starting your own delivery business.
Each step will tell you exactly what you need to do and how to approach your new business. Now, let's jump to the details!
A Brief Plan To Start a Delivery Business
When you start creating a delivery business plan, here are some of the things you must take care of.
Target Market

Customer discovery is the most important step in the initial stage of starting a business. For example, as a delivery service business, your target customers or ideal customers will be local businesses or individuals that need to provide local deliveries to the consumer.

Your target market includes a courier business, food & drinks businesses, flower shops, dry cleaners, breweries, or meal-kit delivery service businesses.

You can get in touch with these kinds of businesses and become a delivery partner, handling all their longer deliveries. If you want to make the customer discovery process easier yet smooth, you can consider the best guide on successful customer discovery and get this job done easily.

Costs Involved

One of the biggest startup costs that you incur while running your own delivery business is acquiring and maintaining your fleet. You will have to figure out which vehicles (cargo van, hand truck, box truck, pickup truck) you will need to support your business operations.

The other costs associated with vehicles are car insurance premiums, vehicle maintenance, and state permits. You may need cargo insurance as well and possibly liability insurance. Use fuel-efficient vehicles to keep your costs under control.

While these costs are major, these are even will cover a wider customer base and get more packages delivered.

Operational Expenses

Operational expenses like fuel costs, driver salaries, and vehicle maintenance will depend on the operations taking place in the business.

How much to charge for each delivery?

A typical delivery charge will include a mileage charge of up to $2.50. On that, there is the fuel surcharge. Some deliveries are charged on an hourly rate while others are calculated on a distance-based rate. You can charge additional fees for oversized packages, after-hour deliveries, or rush delivery orders.

The delivery charge will also depend on the industry you work in and the kind of products you deliver. Therefore, you will have to decide on a separate pricing structure for different products or industries.

How to earn profit?

There is profit in anything you deliver, for sure. The amount of profit you earn will depend on what you deliver and the kind of market you are working in. If you are delivering food in a city compared to delivering food in a small suburb, you will definitely make more money in the city.

The hourly rate for the products you deliver will depend on time, speed, efficiency, and accessibility.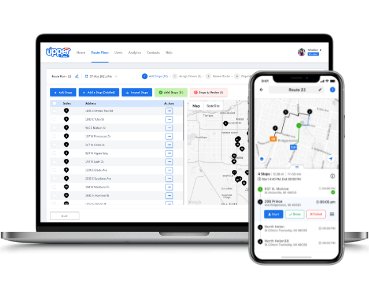 Upper Crew
A Simple-to-use route planner that every one is talking about.
Save up to 95% of planning time
Save up to 40% of time on the road
Plan 500 stops at once
No credit card details required
Creating a Legal Business Entity
Register your business

Start by choosing a type of business structure:

Sole Proprietorship;
Partnership;
Limited Liability Company; or
Corporation.

The importance of establishing a legal identity for your business is to protect you from being personally liable when your delivery service faces problems.

You will be registering under a specific business name. For that, you must be ready with your defined business model. This will require you to check state business records, Federal and state trademark records, web domains available, and other social media platforms.

Identify Tax Obligations & Register for them

At the time of registering for your business, it is best to register for all the state and federal taxes. Apply for an EIN and get going! You can visit the IRS website to apply for a tax ID number.

Depending on the business structure you choose, you will have to register for different taxes. Check for any specific state taxes that may apply to your business.

Whether you are an independent contractor or working as an employee, you will be using Form 1040 to file your tax returns.

As an independent contractor, you will be using Schedule C (for income earned as a delivery driver) and Schedule SE (for calculating self-employment tax), in addition to Form 1040.

Setting up Equipment

To start your own delivery service business, you will need a reliable pickup truck or vehicle to be able to deliver the goods safely. Make sure your pickup trucks are fuel-efficient because you will be using them every day for long distances.

If you are using your vehicle for commercial purposes, get it inspected to see if it's good enough to make deliveries daily. You won't really need an office space or a warehouse because you will not be storing anything. So, you can easily set up a little corner in your house as your office space.

Permits & Business License

Before getting started, you will also have to check whether you are complying with all the state and local permits for running a delivery business. Failing to acquire any of the permits causes suspension, shut down, or heavy fines for your business.

You will have to apply for specific Federal and State Licenses and Permits, depending on the industry and your location. For local licenses and permits, you must check with your town or county clerk's office.
Setting up Business Accounts
Business Bank Accounts

Separate your business banking and credit accounts from your personal assets. Make sure you do not put your personal assets at risk. Build business credit. It will eventually help you in acquiring credit cards and loans in the future. Moreover, you can even opt for business cards that are very essential for your business finances. Separating the business banking and having the records will help in accounting for business transactions.

Accounting

Monitoring your expenses and sources of income is crucial for studying the financial performance of the enterprise. Maintaining a record will make it easier to file your annual tax returns.

Insurance

In order to operate smoothly, without any major hiccups, you will have to ensure your business. Getting a business insurance will help you protect the assets and financial well-being of your business.
Creating & Defining Your Brand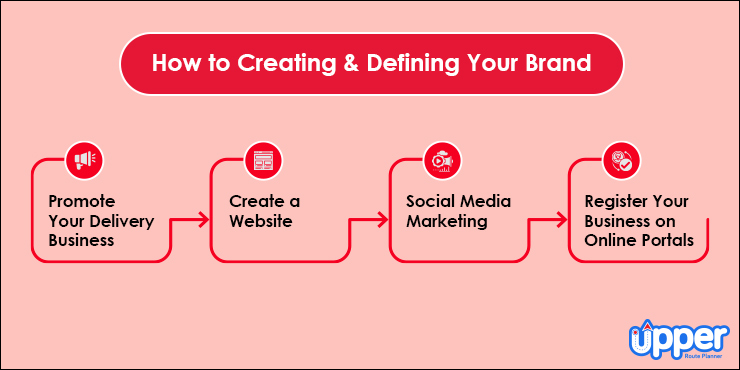 Promote Your Delivery Business

Now comes the fun part! As a business owner, you will be constantly working on defining and promoting your brand to new customers. It is going to be a never-ending process, even if you manage to acquire some of the best clients in the market.

For this, you will be creating a brand and defining what puts your brand apart from others offering delivery services. Print flyers, brochures, and business cards so you can readily spread the word about your business when the opportunity presents itself.

"Brand is just a perception, and perception will match reality over time." Elon Musk (Tech entrepreneur, visionary, and CEO of Tesla Motors)

Create a Website

After creating your brand and logo, you must start creating a website for your business. Having a website will further legitimize your enterprise and will be of great help in marketing. In addition, you can like any social media profiles you create for your business with the website.

Plan quickly, deliver faster, delight customers and get home early.

Everyone deserves to have simple and easy route planning.

Social Media Marketing

Creating a website will not be enough. To get noticed, make your business stand among the top-competitors, and make an impression, you must be present on social media channels like Facebook and Instagram. It will allow you to get in touch with potential customers as well as repeat customers and establish a relationship with them.

Register Your Business on Online Portals

Websites and apps that allow clients to look for many services are a great way to spread your own name in the market. Having a business profile or creating a loyalty program on all major online business portals will offer more visibility to the potential customers and they will be able to make comparisons with other similar small businesses. Craigslist and Fiverr are good options to register for independent contractors.

So, these are the steps that you can follow to start your delivery business startup from scratch and make it successful. If you have any questions in mind, no need to worry as here we have answered some common questions from the readers.
FAQs
Yes, starting this business is a profitable enterprise. It doesn't require you to make large business investments like buying products or having a warehouse. You can even start this business in some brick and mortar locations too. So a part of your earnings can be directed towards operational expenses and the rest of it can be your profit.
If you already have a vehicle, you can start offering a delivery service for less than $1,000. The cost of delivering products for a delivery person or delivery business will remain the same across most industries. The cost of operating a delivery service will also depend on the operational expenses incurred in the process.
You can start by registering yourself for the Amazon Delivery Service Partner. This program will allow you to create a delivery business with Amazon, with low-startup cost & logistics experience. As a delivery service partner with Amazon, you will receive built-in demand and access to Amazon's technology.
Some of the best delivery businesses ideas are:
Food Delivery
Laundry & Dry Cleaning Service
Courier Delivery
Medical Supply Delivery
Grocery Delivery; and
Liquor Delivery
Get Started With Your Delivery Business
If you are looking to be your own boss or even some extra money alongside your full-time job, it is a great way to start providing pickup and delivery services to many businesses who do not have the time or resources for it. All you need is a vehicle and a cell phone to start your operations.
Once you are established and have made enough contacts, you can expand the fleet and make it into a small delivery service business. But whether you are planning to work as an individual contractor or a small business owner, you will find the steps mentioned above useful in starting your own delivery business.

Another important aspect of running this small business is to have a reliable tool to help you plan and optimize your daily delivery routes. A tool like Upper Route Planner can help make your deliveries efficient and save up to 95% of your route planning time. Upper Crews allows you to add any new delivery drivers to the team and divide delivery routes among the drivers.