The trucking industry or the logistics industry refers to road transportation to transport goods from one location to another location. Trucking companies use vehicles like semi-trailers and light trucks for moving goods across overland routes. While the most common use of trucking companies is to transport goods from the place of manufacturing to retail distribution centers, they also transport construction materials, waste, vehicles, among other things.
The industry is classified into three parts: Full Truckload Carriers, Less Than Full Truckload Carriers, and Couriers. UPS and FedEx are two of the most prominent players in the logistics industry in the United States.
Commercial transport companies create hundreds of truck routes daily to find exact locations and truck navigation. Thanks to modern technology, this task is delegated to sophisticated software that creates efficient truck routes by considering real-time factors like toll roads, traffic updates, and truck restrictions.
This article will take a look at some of the best apps that can help generate routes and driving directions for commercial trucks.
Overview of Commercial Trucking Business
Commercial trucking businesses are a category of businesses that facilitate the transportation of goods from one place to another. It transports a wide variety of goods like raw materials, work in progress, and finished goods. These companies usually deal in transporting from the place of manufacturing to the retail distribution centers.
Commercial trucking businesses cover an extensive network, connecting different states and cities. Trucks are responsible for the majority of freight movement over land in most developed and developing nations. The entire logistics industry is created with thousands of commercial trucking businesses.
Commercial trucking businesses work with all major industries to facilitate the transfer of goods and raw materials from one place to another. Speed and connectivity are two essential aspects of the commercial trucking business. They need to offer speedy delivery and make connections between companies and their customers according to the demand.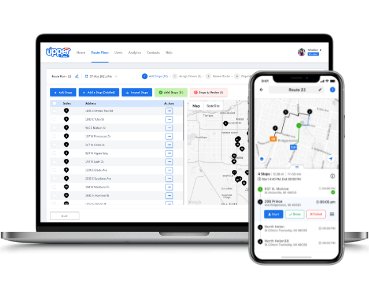 Upper Route Planner
A Simple-to-use route planner that every one is talking about.
Save up to 95% of planning time
Save up to 40% of time on the road
Plan 500 stops at once
No credit card details required
7 Apps to Generate the Driving Directions for Commercial Trucks in 2022
Upper Route Planner
Upper Route Planner is a route planning and optimization tool that helps couriers, small businesses, individual truck drivers, and large commercial businesses create routes and make speedy, efficient deliveries. With automated route optimization, users can create multiple multi-stop routes easily. The app can be used as a web app or a mobile app on Android and iOS devices.
Route4Me
Route4Me is optimization software that allows trucking and transport businesses to put route planning and optimization on auto-pilot. It offers valuable features like barcode recognition, a customer management portal, delivery tracking, and Driver ETA to enable efficient deliveries to customers. It is a good solution for field service reps and field sales reps who need navigation to their field locations.
Optimoroute
Optimoroute offers innovative route planning technology to optimize your mobile workforce. It enables businesses to set multiple order parameters, create multi-stop routes, adjust mid-day changes, order, schedule, and navigate in one app, and offer real-time order tracking with customizable text & email notifications. This way, it allows truck drivers to reach more customers in a day and improve the overall customer experience.
Onfleet
Onfleet is a delivery management software that helps couriers in managing and analyzing local deliveries. It offers a suite of web dashboards for dispatchers, intuitive smartphone apps for drivers (for iOS and Android) with driver tracking, and automated SMS notifications. Onfleet is adopted by a range of businesses belonging to industries like on-demand-delivery startups, distributors, retailers, and multi-national couriers.
Routific
Routific is a good route optimization software that improves the delivery experience through effortlessly planned local deliveries. It offers features like customer notifications, photo capture, mobile signature capture, accurate ETAs, and reports and analytics. Any small and medium-sized businesses making deliveries daily can benefit from using Routific. It is available as a Cloud, SaaS, Web-based app along with a mobile app for Android and iOS devices.
WorkWave Route Manager
Workwave Route Manager is a field service and last-mile delivery software that helps logistics businesses plan, schedule, and optimize delivery routes for improving the efficiency of daily delivery tasks. By offering accurate route planning and optimization, Workwave helps cut operating costs, reduce mileage, and improve overall customer service.
RouteXL
RouteXL is a web-based route planning solution that helps logistics and last-mile delivery businesses create customized routes and track vehicles via GPS and geocoding. It enables you to find the best multi-stop routes for your deliveries and minimize the route's overall duration. The routes created can be exported to navigation apps or shared with others. RouteXL is only available as a Cloud, SaaS, and Web-based app.
---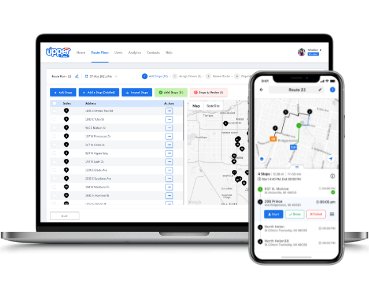 Upper Route Planner
A Simple-to-use route planner that every one is talking about.
Save up to 95% of planning time
Save up to 40% of time on the road
Plan 500 stops at once
No credit card details required
FAQs
It is better if you use a dedicated truck route planner to creates routes for your trucks. Google Maps does not have a specific truck route function for truckers. So, it might not be able to help you find the most accurate routes for your truck deliveries.
Using Google Maps for commercial vehicles can be tricky. You can still create routes with your retail vehicle route planner. You can export the routes to Google Maps and use Google Maps navigation for your commercial vehicles.
---
Use a Premium Route Planner to Create Commercial Truck Routes
The logistics industry uses dozens of sophisticated software. Route planning apps are the most important technological supports to successfully run the delivery operations by creating the most efficient routes. We hope the list of route planning apps mentioned above in the article is helpful to you. In case you have any questions, we will be happy to answer them.