Say goodbye to planning delivery routes manually. Thanks to the ever-growing popularity of direct-to-door deliveries and advances in technology, there are several courier software solutions that will do the heavy lifting for you.
These route planning apps offer many useful features. They optimize your delivery routes, track your delivery drivers in real-time, and even provide integrated delivery information. Route-planning apps assist with last-mile delivery, which involves delivery to the final destination – most often a private residence or business.
The question is: Which is the best for you? We have covered a list of the top five courier route planners to choose from.
What Exactly is Route Planning?
Route planning is part of the last mile delivery stage , where packages are delivered to their final stops. It involves creating the optimal route for multiple deliveries along a specific course. For example, if you have 50 stops to make within a 10km radius of your local hub/warehouse, a plan would be provided to the delivery driver to ensure they follow the most efficient route.
Many business types use a routing/map app, such as sales reps (Realtors or sales representatives), insurance agents, vehicle fleets, large couriers (FedEx, DHL, UPS), and hundreds or thousands of smaller companies.
Why Route Planning is Important For Courier Businesses?
A route planner app is essential to your business because it can impact your bottom line costs and customer satisfaction.
There is a lot of complexity, challenges, and problems in the field of delivery. Last-mile delivery can represent up to 53% of your total delivery/shipping costs because it is an inherently inefficient process. There are, however, opportunities to enhance efficiencies, and route optimization of directions is a crucial way to increase efficiency.
Route optimization can help reduce the time your driver is out doing deliveries. Efficiencies can also translate to costs: lower fuel costs and less wear-and-tear on the delivery vehicles. Over time, the cost savings will be significant.
Besides savings, top multi-stop route planner apps can also help enhance customer satisfaction. An optimized plan will enable the delivery driver to complete all of their deliveries on time and reduce the chance of errors arising during the delivery. Fewer errors and faster delivery equals happier customers!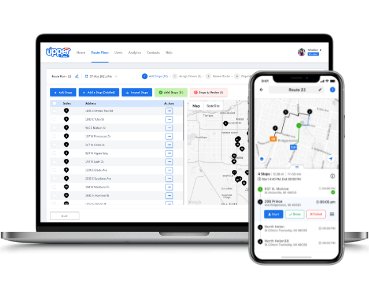 Upper Crew
A Simple-to-use route planner that every one is talking about.
Save up to 95% of planning time
Save up to 40% of time on the road
Plan 500 stops at once
No credit card details required
5 Best Courier Route Planning App Solutions
Courier Route Planning App
Top Features
Price
Download
ShipTrack

Delivery tracking
Dispatch management
Emergency dispatch
Fuel management
Import from spreadsheet
Billing & invoice

Free version Available
Starts at $0.10/Month

Upper Route Planner

One-click driver dispatch
Plan and optimize the route for more than 500 stops
Supports human-centric design approach
Proof-of-delivery
Auto-import from Excel

$39/Driver/ Month (Paid Annually)
$46.80 Per Driver/ Month (Paid Monthly)

OnFleet

Route management
Scheduling
Shipment tracking
Shipping management
Import from spreadsheet
Status tracking

Free version
Starter, 1000 tasks per month – $149 Per Month
Basic, 2500 tasks per month – $349 Per Month
Premium, 5000 tasks per month – $799 Per Month
Professional, 12,500 tasks per month – $1,999 Per Month
Enterprise – over 25,000 tasks Per Month

OnnaWay

Delivery tracking
Dispatch management
Billing & invoicing
Order management
Shipment tracking
Real-time updates

Free version available
Silver version costs $197 per month for up to 5 drivers and 2000 orders
Gold version costs $247 per month for up to 10 drivers and 10,000 orders
Platinum version costs $497 per month for up to 25 drivers and unlimited orders

Deliveries

Add estimated delivery dates to your calendar
Quickly check your packages without opening the app
Track orders from services like Amazon and Apple

$4.99 per year or $0.99 per month
ShipTrack

Shiptrack positions its app as a complete real-time dispatch and delivery solution. The app offers an easy-to-use interface.

In addition to delivery route planning and optimization, it provides real-time driver tracking, electronic proof of delivery, automatic notifications to vendors, and much more. The company also boasts 24/7 customer support.

Pros

Free demo
Complete transportation dispatch and management features
24/7 live customer support
Track multiple drivers at a time
In-person training

Cons

Lack of providing performance metrics
Not available on Mac or Windows desktop

Upper Route Planner

Upper Route Planner is a route planning and optimization software that allows delivery businesses to perform faster deliveries and provide the shortest route to multiple drivers.

Upper Route Planner makes it easy for you to create multiple route plans for your delivery drivers so that they can perform more deliveries in less time. The good part of the Upper Route Planner is that it allows the drivers to capture the photos and take the signature of the customers on completion of delivery.

With its import from Excel, you can easily add multiple addresses at a time and maximize your deliveries by saving time and money.

Pros

Optimize for more than 500 stops at once
Easily syncs with Google Maps API

Cons

No live tracking for drivers
No voice directions

Plan quickly, deliver faster, delight customers and get home early.

Everyone deserves to have simple and easy route planning.

Onfleet

Another leader in the delivery industry. Onfleet promotes its app as a 'complete toolkit for final-mile delivery.'

Its features include route planning and optimization, integrated auto dispatch, real-time traffic data, integrated delivery and customer information, in-app proof of delivery, and comprehensive individual driver profiles and performance analytics.

Pros

Free demo
Route tracking
Route optimization
Analyze drivers' performance
Customer database
Delivery management
Mobile device
In-person training

Cons

No label printing
No billing/invoicing
Does not provide 24/7 live support
Not available on Mac or Windows desktop

OnnaWay

OnnaWay is a delivery app management solution that will make delivery operations easier. It offers packages for small to large-sized companies.

OnnaWay has developed a solid reputation in the food delivery category. Its features include route optimization, live tracking, menu management, online ordering, integrated customer database, and reports/analytics.

Pros

Ease-of-use (based on customer reviews)
Available on ALL web app/installed and mobile platforms (includes Mac & Windows)
Many food delivery features (e.g., menu management, online ordering, food delivery management)
Drivers settings

Cons

No cost-effectiveness
No in-person training
Does not provide 24/7 live support

Deliveries

Deliveries is a courier route planning app that makes it easy for you to track a package. It will eventually help the customers know the status of their package.

Deliveries app allows you to check the details of your shipments. You just have to select your delivery to view the information about the package directly on a map.

Deliveries supports dozens of services, including UPS, FedEx, US Postal Service, DHL, TNT, and even Canada Post.

Pros

Sync your deliveries between devices with iCloud
Easily export your deliveries
So, if you're looking to create a delivery route for your church's yearly turkey dinner take-out or the such, Google Maps is a great solution. If, however, you're running a delivery business and planning daily or weekly deliveries with more than 10 stops on your routes, you'll want to take a look at the best delivery route planner app solutions with your needs in mind.
Benefits of Using Route Planner Software
Historically, route planning has been done manually by a fleet manager. With the advent of a navigation app, whether it is Apple Maps, Waze, or Google Maps, we have seen many sophisticated software solutions.
Optimizes and Automates Your Delivery Route

Manual excel spreadsheet uploading or pen and paper are both time-consuming and complicated. With so many variables to consider, it is nearly impossible for even a highly-trained fleet manager to plan routes that are optimized consistently.

A sophisticated route planner app, on the other hand, is designed to account for a considerable number of variables and can always produce optimized routes. Reducing complexity makes life very simple for multiple drivers. It's also easy to update automated routes based on the latest information (e.g., real-time traffic reports, shift schedules, vehicle types).

Easy Access to All Delivery Details

Route planner apps can also provide delivery drivers with access to all the information they need about multiple stops on their route. Delivery date/time, customer contact details, instructions for delivery location, sign-off instructions, and other key information can be stored, viewed, and updated through the app. 

While it may not seem especially significant, many inefficiencies in last-mile delivery arise due to unclear or missing information about each delivery and customer. For example, whether the parcel should go to the front of the back door and place the parcel in case of bad weather.

More Deliveries in the Same Amount of Time

By optimizing routes and providing drivers with crucial information about their deliveries, you can plan for more deliveries per day than you were able to accomplish before switching to optimization software. Quicker deliveries translate to more happy customers and more growth potential for your business.

In-App Scanning

An app can also help reduce errors by delivery drivers, who can scan the parcel with the app to ensure the delivery to the right customer and address.

Ultimately, the benefits of using route optimization software versus manually organizing your routes come down to cost savings and higher customer satisfaction. These benefits stem from the increased efficiencies and decreased errors that sophisticated software can provide.
Plan quickly, deliver faster, delight customers and get home early.
Everyone deserves to have simple and easy route planning.
Key Features to Consider While Selecting Route Planner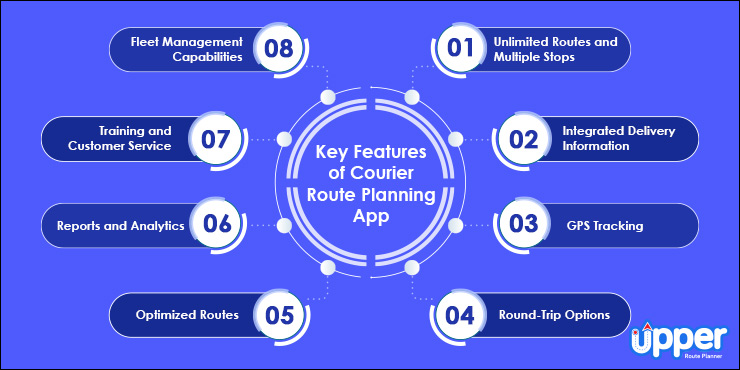 So what features should you look for when choosing a route planner app? It will depend on the user's needs for each feature, of course, but generally, we'd recommend you narrow your search to apps that provide these key features:
Unlimited Routes and Multiple Stops

The last thing you want to do is limit your business's growth by opting for an app that limits the number of routes or stops. Sure, if you're a small business or organization, it may not seem like a make-or-break consideration today, but what about six months or a year down the road.

You want to start on the right foot by choosing an app that won't restrict you to 50 stops or 20 routes – you get the idea. Also, keep in mind dynamic changes and region settings.

Integrated Delivery Information

Make sure the app includes integrating key delivery information, such as customer contact information or customer data, delivery date/time, drop-off instructions, credit card payments, revenue and account management, sign-off instructions, and even status updates.

When it comes to the delivery of information, every business will have different needs. For instance, they may want to track weight, size, pricing, and mileage for each order for all delivery addresses.

You may also want to know client availability as well as etas. Therefore, it's essential to find an app that provides flexibility when it comes to the delivery details that drivers can access.

GPS Tracking

Real-time tracking will allow you to keep track of parcels that are out for delivery. It can also help you identify bottlenecks drivers may be encountering along their routes and issues with drivers that are taking unscheduled breaks, etc.

This GPS navigation and tracking can be set up on a dashboard on a web app or integrated with other web tools such as tasks to view the turn-by-turn directions easily.

Round-Trip Options

Apps with a 'round-trip' option enable you to make the most of your routes by providing drivers with the ability to do deliveries or returns on their way back to the warehouse or depot within the delivery windows.

Optimized Routes

Many services like Google Maps will allow you to add stops, create routes, and get started. They do not include features that would enable optimized routes. Optimization is essential if you are doing one or more routes per day. These types of apps are essentially navigation apps.

Reports and Analytics

Ensure the route planning tool you choose provides reports and analytics that will help you make informed decisions in the future—the more comprehensive the analytics and the more user-friendly, the better.

Training and Customer Service>

While not technically features of the app, training and customer service are important considerations when choosing which route planning software to adopt. Ideally, given the round-the-clock nature of delivery service and time zone differences, you'll want 24/7 live support included with your monthly plan.

Comprehensive training is also vital to ensure a smooth and efficient transition to the new software by all that will be using the app. Many companies provide in-person training alongside live online training, webinars, and documents for route planning tools.

Fleet Management Capabilities

For some companies, once you have many vehicles and are running a professional operation, you run into another problem: fleet management. Some regular applications do offer multi-vehicle functionalities. However, for some, you may want to consider specialized fleet management software.

Still, if you have any questions related to courier route planning apps, we've come up with frequently asked questions in the next section.
FAQs
The short answer is: absolutely, yes! There are various delivery route planner apps on the market that offer different levels of prices and properties. The tricky part is finding the route planner mobile app that matters and that is appropriate for you.
The choice of which route planner app is best for you depends on many factors. These factors include pricing, design, user experience, and the package of features the mobile app provides. In the end, the best app will be the one that gives you the best value for every dollar spent.
Make Complex Courier Routes Simple to Follow
Select the courier route planning app that suits the best as per your business needs.
You need to analyze in detail about every feature and benefit mentioned in the article before selecting the best one for your business.
You just need to take care of the following points for selecting the best one:
Possess strong ability to deal with multiple drivers and multiple stops;
Allows the driver to take capture the proof of every deliveries made;
Makes it easy to deliver more orders;
Makes your customers happy.
Considering your business needs, you can choose any of the mentioned route planner and optimizing apps and makes route planning and optimizing easier like never.