As more and more local businesses are pivoting to offering better customer service delivery services, it becomes inevitable to get help from software to run them smoothly. For a smoother delivery operation, businesses rely on route management software to help route planning and route optimization.
Finding the right software can be a difficult task. There is a bunch of software to choose from. While each of these software has route planning and optimization features, there are important differences between the software. These software solutions can serve different businesses with varying requirements. Irrespective of the features, the software should aim to provide efficiency in fleet operations, offer convenience to the sales team, enhance communication, offer improvement in overall logistics, and eventually lead to profitability.
Overview of Routing and Route Management
What is Routing?
Transferring or delivering a package from the origin to the destination using the most efficient route is called Routing. Routing is done using dedicated routing software to choose the most ideal and shortest route for delivery.
What is Route Management?
The strategic planning of routes for making deliveries considering factors like schedules, traffic, vehicle capacity, etc., is called Route Management. Route Management helps manage the routes and the delivery drivers, fleets, and the entire delivery process.
What is Route Management Software?
A Route Management Software is a tool that uses advanced optimization algorithms and digital mapping to store all the required information for managing a delivery route. A route management software can manage the entire delivery operations with multiple routes, work orders, fleets, and delivery drivers.
Route Planning Software Solutions Depending on Business Needs
Here is the list of route planning software solutions depending on your needs.
Route Planning & Optimization
Upper Route Planner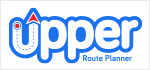 Upper Route Planner is a delivery route planning app that helps drivers, couriers, and other businesses plan and optimize their delivery routes. Upper Route Planner uses a human-centric approach to its design. It offers some beneficial features like Quick Address Input, Sharing, Reporting, & Optimization. Upper Route Planner is a cloud-based solution that syncs across the web, Android, and iOS devices.
Fleet Management Software
WorkWave Route Manager
WorkWave is a cloud-based fleet service and fleet management solution that helps businesses in managing their mobile workforce. It allows fleet managers to plan around time windows and customer requests. The mobile app can receive routes, capture proof of delivery, and easy check-in and out of stops. Tracking drivers and maintaining complete visibility becomes possible through GPS.
Routific
Routific is a route planning solution aiming to help businesses manage their delivery operations, whether it is food delivery, furniture, parcels, or fresh produce. It allows companies to deliver packages on schedule, track drivers, and lower cost-per delivery. Other features of Routific include Delivery Analytics, Proof of Delivery, and Shopify Integration.
Field Sales Management
Circuit
Circuit Route Planner can help fleet managers build routes with up to 500 stops in just a few minutes. Circuit for Teams offers best-in-class route optimization, driver tracking, customer notifications, and accurate ETAs for better control over delivery operations. It provides the ability to track your delivery driver, minute by minute.
Route4Me
Route4Me is an easy-to-use delivery route planning software that can create, share, and manage optimized routes. It is designed specifically for field sales, field marketing, territory management, and all kinds of delivery businesses. This dynamic route optimization software allows you to plan routes in a matter of seconds.
Badger Maps
Badger Maps is another popular route optimization software specifically for field sales reps to be more efficient in the field. Badger Maps helps make field sales efficient by combining Google Maps data from the CRM, route optimization, schedule planning, and lead generation on the mobile device. Badger Maps is a suitable route planning software to solve the traveling salesperson problem.
Delivery Management Software
OptimoRoute
Optimoroute's cloud-based routing software helps in planning efficient routes for drivers and technicians. Optimoroute offers some handy features like Live Tracking and ETA, RealTime Order Tracking, RealTime Route Modification, Weekly Planning, and Breadcrumbs.
Onfleet
Onfleet is a delivery management software that makes planning and managing deliveries easier with features like API integration, automated SMS notification, and driver tracking on a real-time dashboard. Onfleet's route planning software has been adopted by multi-national couriers, distributors, retailers, and even on-demand delivery startups in industries ranging from food & beverages to pharmaceuticals.
8 Common Features of Route Management Software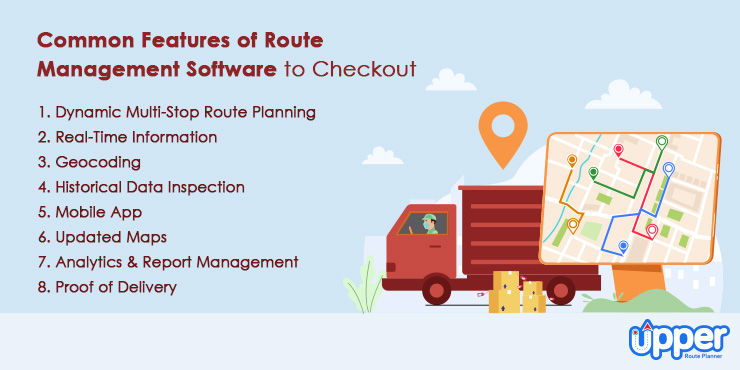 Dynamic Multi-Stop Route Planning
The software must be able to handle on-demand orders along with the scheduled orders. Adding changes to a multi-stop route can make drastic changes to the entire plan. The software must be able to accommodate dynamic planning and rerouting as and when required. If the order or preferences change for any given reason, the software should handle those changes and create a new task.
Real-Time Information
Information like real-time driver location and real-time traffic consideration help businesses in better controlling their delivery operations. With real-time driver location, the company and its customers will know when to expect the deliveries to be done. With real-time traffic information, you know which roads to avoid, so better routes are formed.
Geocoding
Every route optimization software boasts of having a geocoder. But getting accurate latitude and longitude coordinates is no easy task. With accurate geocoding, ambiguous addresses are found quickly, and you get access to an extensive database of local addresses and locations.
Historical Data Inspection
Historical data can offer various information related to previous routes, driver profiles, customers, etc. The historical data equips you with important information from the past and detects any errors in the present. When these errors are considered in consideration with the historical data, you can identify patterns you can learn to avoid.
Mobile App
Drivers and field sales reps cannot rely on second-hand information from the team in the office. The mobile app can identify changes and updates happening to a regular route. A mobile app can help drivers send delivery updates, capture proof of delivery, and send SMS notifications while finishing their delivery tasks.
Updated Maps
A few software boasts about having the best route optimization algorithm and other features but has the same maps from 5 years ago. No matter what algorithm you use, if you do not have updated maps on the software, your drivers will not find the correct location. The plans must continuously be updated with real-time data and location information. When mapping data is up-to-date, it saves time in deliveries and reduces the burden of continually updating delivery information.
Analytics & Report Management
The ability to track the entire fleet operation in real-time and see what is happening gives you better control over your operations. It must allow you to compare actual routes vs. planned routes and offer performance evaluation of different choices you made like routes, vehicles, drivers, etc.
Proof of Delivery
Every fleet management software must have the option of generating proof of delivery and attaching the proof of delivery to the drivers' notes. This creates a system and makes sure that the package is delivered safely by the driver.
7 Benefits of Having a Route Management Software to the Delivery Business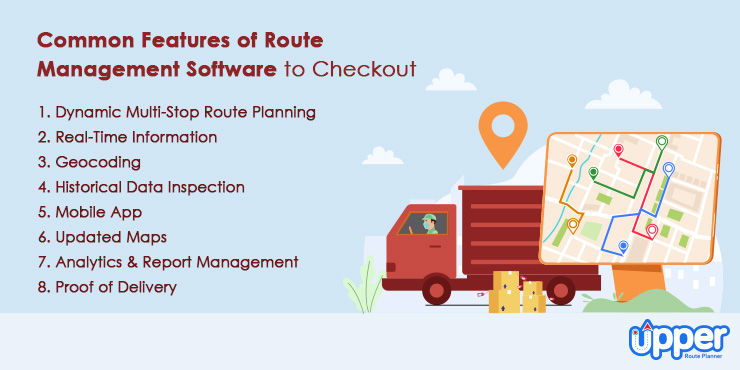 Automated Scheduling
With route management software, planning routes and creating a systematic plan is automated. All you have to do is enter the addresses and other constraints and let the route optimization algorithm create efficient multi-stop routes.
Real-Time Route Management
When using route management software, The route management software can easily accommodate any last-minute orders or changes to the route. With such real-time route management capabilities, drivers do not waste time and fuel driving around to the locations they are not supposed to go to.
Saving Time & Money
When the schedule planning is automated and accurate multi-stop routes are created, drivers do not have to waste time and fuel looking around for the destination. This way, a business can save time and money.
Driver Safety
Each driver that sets out for a delivery task is taking upon him several risks. By having route management software in a mobile app, drivers can easily focus on the road, get real-time traffic updates, real-time weather forecasts, and identify routes with faulty roads or congestion. When you can track your drivers in real-time and receive performance analytics, you get to know the speed they drive at, and hints of risky behavior can be identified. With this information, it becomes easy to control risk.
Flexible & Scalable Operations
The dynamic nature of the route optimization solution helps in improving the flexibility of the operations. When daily operations are flexible, easily adjustable, and adaptable to changes, the operations' scalability and organization improve.
Enhancing Customer Satisfaction
Route planning apps help in offering fast and efficient delivery services to your customers. With features like real-time order tracking, customer notifications, and direct contact with drivers, the entire customer satisfaction improves.
Managing More Deliveries
When less time is spent planning routes and deliveries, you can create more orders and arrange them into routes. By doing this, you can do more deliveries.
---
FAQs
Route plans or delivery routes created by optimization software are concise and consider real-time factors. This can reduce the miles and time-driven to finish the deliveries. Eventually, you save time and money with properly optimized routes.
The best way to plan a route with multiple stops is by using route planning software. You can either use a paid version of the software or go for a free trial. There are apps like Google Maps that allow you to plan a route up to multiple stops for free.
---
Save Time for More Pressing Matters
The last thing any delivery business wants is to spend more time planning for deliveries. If the delivery services can be handled by software, the companies can focus on other immediate matters at hand. In this article, we have provided you with a list best route management software available in 2021, along with how they can benefit you. Now it's up to you to choose the one that works well for your business.