What are the common challenges you normally face in your delivery business? Vehicle routing, vehicle constraint, and time constraints. Right?
Now, you might be wondering about how to get rid of such challenges? Is there any possible solution? Yes. It's a driving route app. By adopting a driving route app, you can easily create your route plans, add multiple destinations, and most importantly, save your time and money.
Here, we have listed top driving route app solutions that will help you select the one that suits your basic needs. So, let's get started.
5 Best Driving Route App Solutions(Comparison Table)
Driving Route App
User Ratings
Pricing
Download
Google Maps

4.8/5

Upper Route Planner

4.4/5

Routific

2.9/5

Essentials: $39 Per Vehicle / Month
Professional: $59 Per Vehicle / Month
Premium: Contact customer support

OptimoRoute

3.9/5

Starter:$17.10 / Driver/ Month, if billed Annually
Business: $26.10 / Driver/ Month, if billed Annually
Enterprise:$35.10 / Driver/ Month, if billed Annually

Circuit

4.7/5

Dispatch: $40 / Driver/ Month
Recipient: $60 / Driver/ Month
Enterprise: $100 / Driver/ Month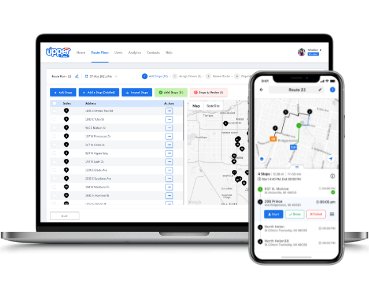 Upper Crew
A Simple-to-use route planner that every one is talking about.
Save up to 95% of planning time
Save up to 40% of time on the road
Plan 500 stops at once
No credit card details required
Google Maps

Google Maps is a driving route app that offers you real-time traffic information and real-time ETAs.

Travelers like the vast library of events, activities, bars, local restaurants, and must-try places curated by experts and Google Maps itself. It is a great navigation tool for people on road trips.

Top Features

Save your favorite destination for future reference.
Location sharing with your friends and family.
Google Street view, satellite images, voice directions or voice navigation.
Options like driving, walking, biking, and public transport.
Offline navigation with turn-by-turn directions without Wi-Fi or data coverage.

Upper Route Planner

Upper Route Planner is an excellent driving route app that supports route planning and optimization using a human-centric design approach. It aims to make the user experience delightful and works towards it at each step of the process.

Upper Route Planner serves businesses and organizations belonging to a large variety of industries like food delivery, flower delivery, liquor delivery, courier, and waste collection. This route planner software increases productivity for the drivers and dispatchers, while saving their driving time and money with each trip by planning the most efficient route with multiple stops.

In fact, Upper Crew's client, Chef Nicole, a Miami-based healthy meal delivery service that creates and delivers healthy and well-balanced meals, saves 10 hours per week and delivers 3x more meals.

Upper Crew helped them to boost their meal delivery business by providing faster and safer deliveries to their customers.

Top Features

Easily add multiple stops for your drivers.
Provides turn-by-turn directions for multiple routes.
You can efficiently create a route plan of 500+ stops at once.
Auto import with Excel to add multiple addresses.
One click driver dispatch to share the delivery-related information to drivers.
Proof of Delivery for ensuring the delivery is made on time.
Analytics & smart reports to know the detailed information about the delivery operations.

Routific

Routific is a driving route app that allows you to plan and dispatch optimized routes in minutes. This software solution is trusted by hundreds of the world's most efficient delivery businesses. Routific helps you deliver faster and on schedule, track your drivers, and lower your cost-per-delivery.

Routific's route optimization accounts for factors specific to delivery fleets, like time windows, vehicle capacities, delivery types, driver speeds, priority stops, driver shift times and driver breaks.

Top Features

Easy-to-use APIs.
Allows you to track your driver's delivery details.
Provides the proof of every delivery.
Change driver's routes on-the-fly.

OptimoRoute

OptimoRoute is a driving route app that provides routing and optimization to every kind of business, food delivery, cleaning and maintenance services, retail and distribution services, waste collection, and eCommerce.

OptimoRoute allows you to easily import routes through a spreadsheet containing multiple addresses. Moreover, it supports multiple parameters like service time windows and plans your route in support of all parameters.

Top Features

ETA calculations.
Sends the directions directly to drivers' phones.
Accommodates mid-route changes easily in drivers' phones.
Personal driver settings.

Circuit

Circuit is a driving route app designed explicitly for people traveling long distances and covering multiple stops in a single route daily. Circuit is an ideal choice for independent contractors to drivers working at some big courier companies

Circuit offers seamless navigation to its users and has an impressive user interface. In addition, it allows individuals and businesses to plan routes with specific delivery constraints, which helps them create better-optimized routes for faster and efficient deliveries.

Top Features

Easily control your delivery operations.
Manage multiple routes for your drivers with ease.
Easily track your deliveries to keep records.
Save the driver's hours by providing the optimized routes.
Fast multiple driver route optimization to make faster deliveries.

These are the leading driving route apps that you can try out. But before selecting your preferred app, you must take into account the features.
Plan quickly, deliver faster, delight customers and get home early.
Everyone deserves to have simple and easy route planning.
7 Major Features to Consider Before Selecting Driving Route App
Now, it's time to discuss some of the features that you must check out before selecting your driving route app for your needs.
Bulk Address Import

Having a simple import feature makes a lot of difference in how much time it takes to create routes. Bulk address Import helps users upload a long list of destinations that will make multiple stops for your delivery routes.

The Bulk Import feature, like copy-paste, helps the user in saving time. It imports an entire address list instead of manually entering each address in the system. The algorithm identifies each address along with the specific code mentioned. Optimization is then done, and the addresses are rearranged more efficiently.

Location-Based Auto-Detect

When you have an intelligent input system to support adding stops or addresses, it will quickly and easily detect the addresses you enter. The route planning tool you use must be quick enough to identify the addresses and add them to the list.

The intelligent input system helps you save a lot of time. If you are manually typing an address and make an error while doing that, the system will easily identify the error and find the right address. Location-based auto-detect can find an address easily and can save you a lot of trouble.

Real-Time Tracking

With real-time tracking, you will know delivery drivers' locations and progress. This is an excellent way of receiving updated information that helps all parties involved in the deliveries. It provides better control over the supply chain processes and makes sure the deliveries are run smoothly.

Real-time tracking is one of the most important features when it comes to a driving route app. With a tracking feature, you can easily find the real-time location of your drivers and packages. It helps managers by keeping them in the loop. Communication becomes easier as it allows managers and customers to be aware of the location of drivers and packages.

Proof of Delivery

A proof of delivery helps businesses and consumers confirm the updated delivery status of the package. It means your drivers have completed the deliveries. Every delivery management solution needs to offer a way to receive proof of delivery in a signature or photo capture.

Proof of delivery is integral to every type of delivery business out there, right from food delivery to courier service. It makes sure that the deliveries are being made properly, that is the main purpose of it. With proper proof of delivery, the delivery driver doesn't have to be answerable for any mishap.

Customize Routes

With each delivery and route, the requirements are different. Users should name and customize the routes with the necessary details to meet their specific needs. The route planners must also accommodate any changes made based on priority.

Customizable routes in route planning software help make things easier for drivers and managers. Customizations like giving a particular name or allocating a specific color to the route can help you distinguish between routes. For example, the routes related to customer service can be given a specific color, while a route for pickup can be allocated a different color.

A business manager can also create individual driver profiles with specific start locations and destinations.

Share Route Plan With Your Driver

Businesses dealing with multiple drivers every day need to dispatch the delivery routes to drivers on their smartphones. The drivers do not have to report to the depot, and they receive their daily tasks wherever they are. Individual drivers or people creating routes for a road trip can share the route plan with their family and friends.

By sharing routes or destinations with drivers on their mobile app (Android and iOS), you can save them from wasting their time coming to the depot to collect their route plans. Sharing routes makes things much easier for the drivers as well as the dispatchers.

Reports & Insights

With up-to-date reports on daily deliveries, businesses receive data on drivers' performance, deliveries accomplished, and deliveries remaining pending. The reports and analytics offer helpful insight into the operations of the business. These reports help delivery managers as well as delivery drivers in making important decisions.

The reports can be useful in finding out where drivers are lacking in their delivery service. Any lack of resources can be identified and met with from the insights generated by the reports.
FAQ
Yes. There are many apps that provide multiple stops. But, Upper Route Planner is one such route optimization app that easily creates and optimizes multiple routes with multiple locations.
You can try out apps like Waze, MapQuest, and Google Maps. These apps help you plan routes for free. But each of these apps come with their limitations like the number of stops are limited.
When choosing a delivery route planner app, match your requirements with the features or services offered by the map. If all of your business and delivery requirements fit the elements, it is probably a good option.
Vehicle Routing Problem is the challenge of finding out the fastest and most cost-efficient route from one location to a set of multiple stops. In addition to that, it considers business-specific constraints. It is a generalization of the well-known Traveling Salesman Problem (TSP).
Drivers can face vehicle Routing Problems due to different real-world problems like:
Vehicle capacity
Time windows
Pickup & delivery locations
With the help of a driving route app, the drivers can tackle all these problems with dedicated software solutions that offer a route optimization service while considering real-time traffic, time windows, distance, and other delivery constraints.
Improve Your Delivery Operations With the Upper Route Planner!
Achieve your dream to make faster deliveries. Plan your route with Upper Route Planner to add multiple stops before reaching your destination.
The driving route app that you select must have the following features:
Capable of handling multiple addresses;
Provides proof of delivery;
Make route planning and optimization easier;
Sharing the route plan to multiple drivers;
Have detailed analytics of your delivery.
We've come across various driving route app solutions that make it easy for you to perform more deliveries on time. But, the best one is that it provides you convenience in dealing with multiple deliveries and helps you save time and money.