There have been some tectonic shifts in the food retail industry recently. One of the biggest changes that restaurants, grocers, farmers' markets, and other businesses have contended with is evolving consumer preferences. At the top of that list is home delivery. Customers expect the whole delivery process to be seamless and expedient – from placing their order to paying to receive the delivery at their door.
Food is big business, and the competition can be fierce. If you don't offer a delivery option or your delivery service is subpar compared to your competitors, chances are your business will sink. This artic will look at why you need route planners for food and/or grocery delivery. We'll look at some of the specific considerations for food delivery route planning and how an application can help save you time and money. Next, we'll look at whether a paid or free route planner app is the best option for your business.
Important Considerations for Food or Grocery Delivery
Delivering food or groceries to a home residence is not the same as delivering widgets. Some particular and important factors must be considered when you're delivering hot food or perishable grocery items. Here are a few key things to keep in mind when you build a grocery delivery business: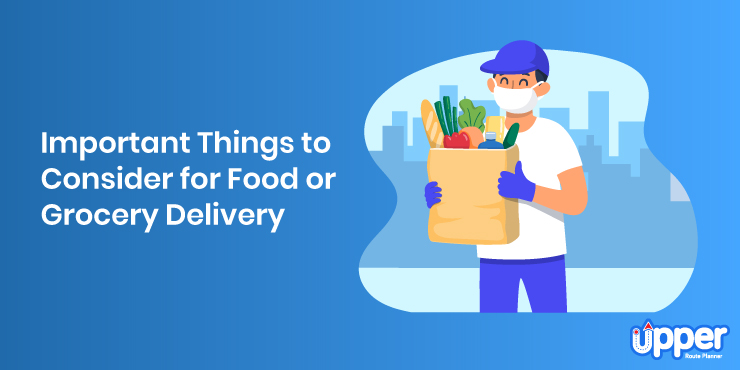 You can't drop-off someone's groceries like you would a parcel. Because most groceries include perishable items, you'll need to ensure that the customer is home to receive the groceries when they're delivered or package the groceries appropriately and ensure the customer provides clear directions on where to leave their order. Raccoons and other wildlife may also present a problem, not to mention inclement weather such as heavy rain, freezing temperatures, or a heatwave.
Your customers expect their food delivered hot! Today, you can get almost anything delivered right to your door and (almost) right away. As technology has enabled the rapid evolution of home delivery, consumer expectations have evolved right alongside them. Arguably their expectations are highest when it comes to ordering food for delivery from a restaurant. Restaurant food, unlike many other goods, is best experienced immediately after it's prepared. With every minute that lapses from the time it leaves the kitchen to the time it's eaten, food can lose heat and flavor. To compete in the food delivery game, you're going to need to figure out the most efficient way to get your food from the kitchen to your customers' doors. You'll also need to figure out how to best package your menu items to retain heat and avoid moisture build-up that creates sogginess (say no to styrofoam!).
Your customers want delivery on their own schedule. When it comes to home delivery, most customers will give some leeway concerning the arrival time if the product is a consumer good, such as a book, new piece of technology, running shoes, etc. This is NOT the case when it comes to food. Customers want the ability to schedule their food or grocery delivery for a particular time because, well, that's probably when they're planning to eat or prep dinner. They also want to be assured that if they schedule delivery for a specific time, their food will, in fact, arrive at that time. Sorry, but delivering the family meal two hours after the scheduled time isn't going to cut it. You'll lose customers in a hurry, and very likely, your business's reputation will be damaged for good. In other words, don't jump into the (delivery) race until you're 100% confident that you're ready to hit the ground running.
These are just a few of the main factors to consider when building a food or grocery delivery business. Depending on the business's specifics and your customer base, you'll need to look at other factors that could impact your ability to create a successful food delivery business model and meet your customers' expectations.
For more information about delivery route planner apps read this post:
Best Route Planner App for Delivery Drivers in 2021
Benefits of Using an App to Plan Your Food Delivery Routes
Now that you understand some of the key factors that can make or break your food delivery business, let's look at how a software application can help you succeed in this competitive arena:
Your delivery drivers will get the best route every single time. The main and most valuable feature of route planning apps is that they rely on sophisticated built-in algorithms to plan the fastest way every single time. Route optimization is key to getting your food to its destination as quickly as possible. In addition to happy customers, route optimization software will enable your drivers to complete more stops in the same amount of time, effectively increasing your profit margin (woot!). It's worth noting here that Google Maps is not designed to optimize routes with multiple stops. Many people mistake Google Maps as an example of multiple stops planning application, but it is a mapping tool.
You'll spend less time and money than if you were planning your routes manually. Manual planning is cumbersome, inefficient, and time-consuming for delivery businesses. A route optimization software solution can avoid wasting time trying to map out each route on paper.
An app can provide your drivers and customers with up-to-date information – Some routing apps include features that serve up valuable information to your truck drivers, such as up-to-date traffic conditions and GPS tracking that can alert your customers to the status of their delivery order in real-time. While not imperative to your business's success, an app that makes your drivers' job easier and keeps your customers in the loop will help you win the long game.
Manage routes with multiple addresses and manage multiple delivery drivers – A proper software tool is designed to grow alongside your business's needs. Many route planning apps offer different monthly plans, depending on your needs. This enables you to manage routes with multiple stops and plan routes for your entire fleet of drivers.
You can track your drivers and update their routes as required – No more wondering where your drivers are on their routes. No more hearing that a traffic accident has shut down a key route in your region and feeling helpless to reroute your drivers. Certain apps will provide you with real-time tracking of your entire fleet, and some include a feature that allows you to reroute your driver(s) at any time with the click of a button.
At the end of the day, a good application should save you time and, consequently, money. It should make your drivers' duties easier and more predictable. And it should ultimately enable you to provide better customer service, which will translate into customer loyalty and business growth. Yes, an app can help do all that, provided you take care of the rest!
Plan quickly, deliver faster, delight customers and get home early.
Everyone deserves to have simple and easy route planning.
Paid vs. Free Route Planning Apps – What's the Difference?
Ready to take advantage of all the benefits of adopting this type of software? Great! But first, it's important to be aware that there are free and paid route planning apps on the market. Many route planning apps offer both free and paid versions. Let's take a look at the typical differences between free and paid apps.
Quality
First, let's clear up one common misconception: just because it costs money doesn't always mean it will be a quality product. And vice versa, just because it's free doesn't automatically mean it's low quality.
Limits on Usage
One of the main limitations of most free route planning apps is that they place usage limits. In other words, they limit the number of drivers/users that can access the account, or they limit the number of stops or addresses you can plan. If you're starting, a free routing app may be all you need, but do check that the app offers paid plans that you can upgrade to if you want to be able to plan unlimited stops at some point.
Features
It probably comes as no surprise that most free apps have fewer features than paid-for apps. Do you want to be able to keep your customers updated on the arrival of their food with GPS technology? Do you want to be able to reroute your drivers based on up-to-date traffic conditions? Take some time to review the features offered by different apps and determine which are 'must-haves' and 'nice-to-haves,' then look at your budget and decide what fits both the best.
Customer Support
Another important perk of paid route planning apps is that they often come with access to live customer support (and sometimes training). Capable and quick customer support is imperative because if something goes wrong with your delivery planning app, you'll need to get it back up and running as soon as possible. With a free app, you may find yourself spending hours upon hours trying to troubleshoot the issue yourself.
There are plenty of free apps out there that are well-built and may be perfectly suited to your current needs. For many, Google Maps is a service that comes to mind. Some paid route planning apps aren't exactly user-friendly or are mired with bugs. Mind you, these apps don't tend to stand the test of time.
So, with that in mind, how do you know which apps are of good quality? One great resource is user reviews on sites such as Capterra. You can also turn to reviews by experts in the field and round-up articles by industry insiders. Fina, you can take the app for a test drive with a free tr in many cases in many cases. Bear in mind, however, that sometimes quality issues don't arise until you start asking the app to do more than just the basics.
What is the Best Alternative to the Free Options?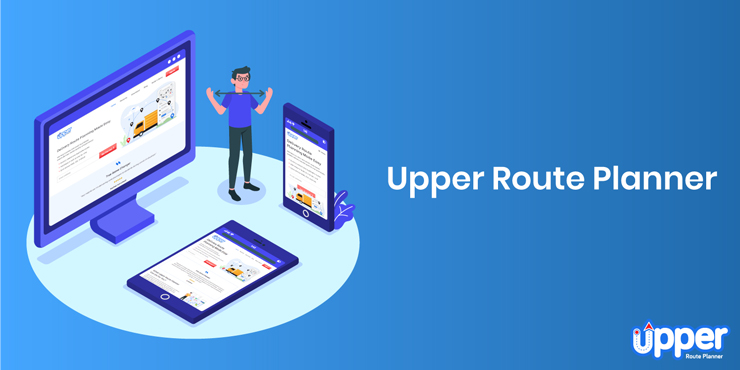 For some users, a free navigation app – like Google Maps – will do the job from simple routes. For a multi-stop route with many stops, you'll certainly want to use a more robust multi-stop route planner. For this, we would recommend the Upper Route Planner. Below is a list of some of the reasons why you'll want to use Upper as your tool of choice.
Multi-platform: We want to be where the user is. Upper allows instantaneous syncing across multiple platforms and tools, website, smartphone, tablet, iOS, and Android. Plan and sync live across all platforms.
Optimizing Routes: The quickest and shortest route is always the best for deliveries. Our software solution will help you find the best road to use our custom advanced route optimization algorithm and route planning features.
User-Friendly Design: We've designed our web app and mobile app with our users in mind – the simpler, the better. The fewer clicks, the better. The more value-added, the better. I think you get the point. ?
Easy Stops Input: Add unlimited stops by importing a spreadsheet or by adding stops one by one.
High-Quality Customer Support: Our customer satisfaction is key, and we want to deliver value to you as quickly as possible.
Team Features: Upper supports multiple users and drivers in one account, allowing you to work in teams to attain all your stops.
Many Integrations: Integrates with most major navigation apps Apple Maps, Google Maps, Waze, and more.
Try Upper Route Planner
Food and Grocery Delivery is a huge industry that is just getting bigger in light of the Covid-19 pandemic. For each delivery driver that is planning routes, it's important to have the right tools for the job. In terms of cost, one can use a free route planning application. We would recommend you download and use a paid routing software like Upper Route Planner for deliveries and road trips. Even if you have to pay for a subscription, it will save much more on costs, time, and gain much in data, services, options, and make the delivery process smoother.