There is a bunch of routing software that offers optimized routes. But businesses need more than just route plans and navigation. Small businesses are looking for optimization software that provides additional state-of-the-art features like geofencing for defining geographical boundaries, driver tracking, proof of delivery, and in-depth customer support.
This article will take a look at some of the best routing software for small businesses. We will also cover important features for small business owners and how routing software offers those features and benefits them.
What is a Routing Software?
Routing software is a delivery planning and optimization tool used by businesses having sales reps, field service workers, or offering delivery services for goods. It helps you in planning delivery routes, dispatching, managing fleets, and daily delivery schedules.
Routing software is often called route optimization software or delivery management solution. With the help of advanced algorithms and digital mapping, offer you optimized routes and manages delivery operations.
Top 7 Routing Software For Small Businesses Offering Delivery Services
Here is a list of the best routing software for small businesses offering delivery services.
Upper Route Planner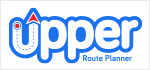 Upper Route Planner is a cloud-based route planning software that enables couriers and small businesses to create efficient delivery routes quickly and seamlessly. Upper Route Planner uses a human-centric design approach that considers your experience central to the app's working.
Platforms Supported: Web, Android, & iOS
Pros
A human-centric design that makes the user interface extremely easy to use
An affordable pricing plan for small and medium-sized companies
Cons
Sharing routes with your team is difficult, though it is possible
Users don't receive any text notifications
Badger Maps
Badger Maps is a route optimization software specifically created for providing support to sales reps in the field and help them do their job efficiently. It manages to bring together customer accounts and sales routes in a mapping solution. It offers some useful features that you want in field service management software or a platform for field sales & services.
Platforms Supported: Web, Android & iOS
Pros
Developed specifically for field sales reps, it helps the sales team in being connected with the field sales reps
The user interface is good across the web and mobile apps
Cons
No drag-drop scheduling
Badger Maps is expensive software
WorkWave Route Manager
WorkWave Route Manager is a web-based route planning tool that helps you create the fastest and most efficient routes within minutes. Features like alerts on a violation, drag-and-drop scheduling, and assigning last-minute orders to make planning, routing, and GPS easier.
Platforms Supported: Web, Android, & iOS
Pros
Importing and exporting data is uncomplicated
It offers Barcode recognition, which is an important feature for many delivery businesses
Cons
The optimization speed could be better, along with better filtering options
Difficult to operate for less tech-savvy individuals
Circuit
Circuit Route Planner is a multi-stop route planning and route optimization software that lets you take control of your delivery operations with best-in-class route optimization, accurate ETAs, and driver tracking. Circuit also offers video, voice messaging, screen sharing, and file sharing through a single platform.
Platforms Supported: Web, Android, and iOS
Pros
Video conferencing, Outlook integration, and screen sharing are useful features
Good software solution for a geographically distributed team
Cons
Circuit is expensive software
There is no way to delete conversations. This can often create clutter on the dashboard
OptimoRoute
OptimoRoute is a cloud-based route planning software that helps service technicians plan efficient routes and manage work orders. It offers you some beneficial features like Live Tracking & ETA, RealTime Order Tracking, and Proof of Delivery.
Platforms Supported: Web, Android, & iOS
Pros
Ease of manually adjusting delivery points after the route has been created
Sending out an email notification to customers on the driver's arrival is good for support and communication purposes
Cons
The user interface of the software looks old and outdated
No SMS notifications or customer signature capture for proof of delivery
Route4Me
Route4Me is an easy-to-use route planning software that helps small to mid-sized companies manage delivery drivers and create their daily delivery schedules. Route4Me helps the field sales team, service technicians, and delivery drivers save time and money daily.
Platforms Supported: Web, Desktop (Windows/Mac), Android, & iOS
Pros
Route4Me finds stops accurately and offers weekly reports for deliveries and service calls, offering a good user experience
Route4Me allows users to export mapping results to their database
Cons
Users have to click through a lot of screens for route sequencing
Sometimes erases completed stops for the day. It causes the wrong data to be recorded
Onfleet
Onfleet is a modern delivery management software that helps you in planning and managing local delivery tasks. It offers a real-time web dashboard, an intuitive mobile app for drivers, with features like automated SMS notifications and driver tracking.
Platforms Supported: Web, Android, & iOS
Pros
The web dashboard has a modern interface that offers plenty of useful analytics
A company can keep track of drivers and tasks using real-time delivery tracking
Cons
There is no way for a driver to cancel or reject a task
You cannot look for a particular driver or recipient
Routing Software Features Helpful for A Small Business Needs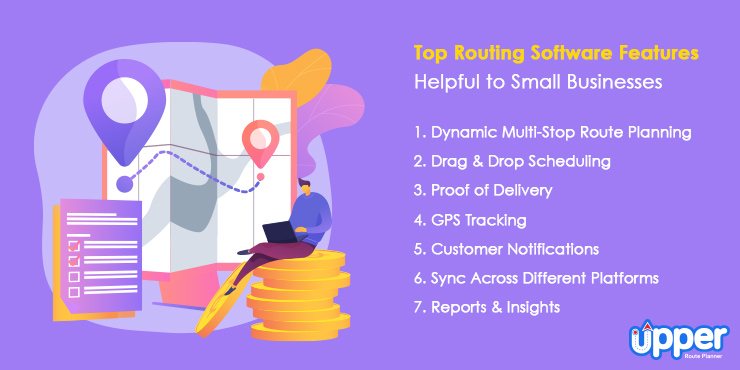 Dynamic Multi-Stop Route Planning
Multi-stop route planning is one of the major features that every small business can expect from routing software. With dynamic multi-stop route planning, users can easily adjust the routes and add changes to them without creating the entire route all over again.
Drag & Drop Scheduling
Drag & drop scheduling is a feature that makes creating delivery routes and making changes to the delivery schedules easier. This makes the entire function of route planning and optimization a more interactive practice.
Proof of Delivery
Proof of Delivery in the form of images, customer signatures, driver notes, etc., is a useful feature. It informs the business about the successful completion or delivery of a product. Generation of proof of delivery reaches the manager or the head of the delivery team, ensuring that the delivery has been completed. It can be saved in the back-end and accessed anytime.
GPS Tracking
With real-time GPS tracking, a business can track drivers and their delivery activity. GPS tracking receives satellite signals while the receiver processes it, which helps in receiving real-time information, increasing efficiency, and making certain decisions about the business. GPS tracking will improve overall workforce and fleet management.
Customer Notifications
Customer Notifications are important for improving customer service and overall customer experience with your business. With customer notifications, the software sends out regular updates to the customers regarding their order status, whether it has left for delivery, whether it is in transit, or delivered to the final destination.
Sync Across Different Platforms
Having software that syncs across different platforms like the web, Android, and Apple devices matters a lot. This is about convenience and the ease of adaptation. Different companies use different systems. The software must be capable and adaptable enough to work on all the popular platforms.
Reports & Insights
Detailed reports regarding deliveries, driver performance, and overall delivery operations provide insights regarding the improvement areas. It also depicts parts of the process that are working well. These detailed reports help you make important decisions regarding the business processes.
Benefits of Having a Routing Software for Small Business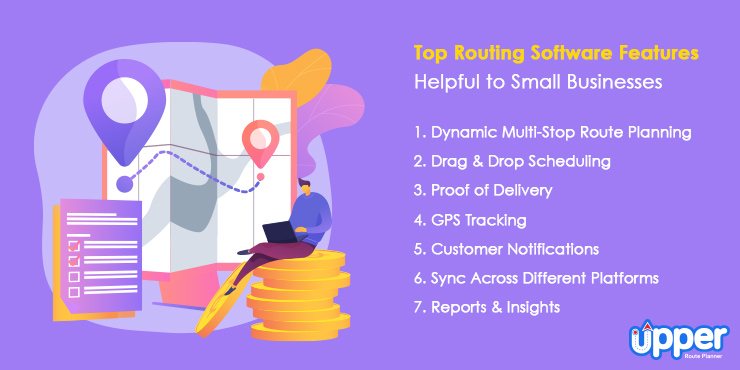 Route Optimization Management
A small company will perform better with route optimization by filling more work orders and doing more deliveries per route. With accurate route optimization, small businesses will not only save time and money on operations, but they will be able to channelize that time and finance towards business functions that require immediate attention.
Automates Delivery Planning
Manual planning deliveries require a lot of time and attention. Routing Software does all the complex calculations and adjustments automatically within a few minutes. Time is one of the most valuable assets we have. Businesses cannot afford to waste time on something that an algorithm can easily do. You can utilize the time you save for getting more orders or fulfilling customer queries.
Accommodate More Work Orders
When routes are properly optimized, drivers will be able to fill the time saved with more work orders. With properly planned routes, drivers will easily manage new work orders or even urgent addition to the work order. Business managers can keep track of the time it takes to finish a delivery, and if the drivers have any extra time left on their schedule, that can be filled up.
Reduced Operating Costs
With routing or delivery fleet management software, the drivers are managed more effectively. It leads to saving significant operational, fuel, and payroll costs. Routing software will not only reduce operating costs but also improve revenue per driver. Route optimization helps small companies in saving high operational costs without compromising the quality of their services.
Managing Delivery Constraints
Routing software easily accommodates and manages routes according to specific delivery constraints like the number of vehicles, maximum stops per route, maximum distance per vehicle, or route duration. Routing software optimizes your routes depending on the delivery constraints you mention for each route plan.
Improved Productivity
With routing software, unproductive drivers or routes are be identified. With the application of delivery constraints to the routes and better planning and organization of the stops, there is a close watch on how the drivers perform and achieve their daily deliveries. It is enabled through real-time driver tracking. By doing this, the overall productivity of the driver increases.
Improved Customer Satisfaction
Customer reviews and good customer service are not only for delivery giants like Amazon. Small businesses need to understand that good or bad customer experience affects their business as well. With features like email notifications, SMS notifications, real-time ETAs, solving customer queries instantly, synchronizing mapping data with customer data, and timely deliveries all come together to form customer experience.
---
FAQs
A route planning software uses an advanced algorithm to create an optimal order of routes, covering all specified stops within the shortest possible time period.
Optimizing a route is more than just finding the shortest distance between two locations. Optimizing a route needs to consider constraints like speed, real-time traffic, time windows, etc.
The best way to create an efficient route with multiple locations is by using route planning software that considers real-time data to find the shortest distance between stops and helps you save time and money.
---
Let a Routing Software Do the Heavy-lifting for Your Small Business
Having the right routing software solution will help small business owners grasp a major chunk of the local market they are competing in. Whether they are engaged in e-commerce, food delivery, field sales, small to mid-sized companies conducting logistics functions will definitely benefit from routing software's route management and optimization features.
We hope this article helped you identify which tools look more suitable for your business and how they satisfy your specific business needs.