As a small or medium-sized business owner, you might not have enough time to track your driver's status, especially if your business is involved in couriers, food delivery services, field services, grocery delivery, flower delivery, and even alcohol delivery. In addition, you need to maintain the daily log record of drivers delivering the items to the customers, and it becomes more challenging if you do it manually.
So, you must be looking for a solution that can help you save time and eliminate the daily chaos like how to create a route, how to track drivers, and even how to manage them. Route planning is the one-stop solution for you. And, the route optimization software market is substantially growing, making it easy for you to create and manage your route more efficiently, deal with optimized routes, and save time and money.
Continue reading this article as we have mentioned the detailed information starting from what route planning is to how it can benefit your business.
What is Route Planning?
Route planning, most commonly known as "route mapping" or "route sequencing," is the process used to decide the route to take from one place to another.
Let's say you're planning to have a long trip and you're completely unaware of the new location that you are visiting. In that case, route planning, with its algorithm, identifies and provides you with the best and optimized route available.
Why is Route Planning Important?
Route planning is essential to bring more convenience to drivers and enhance business productivity. This process is vital for any company with logistics needs, deliveries, delivery routes, or business schedules or field services. There are some best possible reasons to have route planning in your business.
Cut Transportation Expenses
One of the biggest challenges that many business owners face is higher transportation costs. They need to bear higher fuel costs and vehicle maintenance costs. And it's just due to the following reasons:
The drivers need to stop at multiple destinations (especially due to heavy traffic or toll roads)
The drivers need to deal with long driving time due to unplanned routes
More chances of having risk for fuel wastage on backtracking
Higher vehicle wear and tear due to efficiency lacking
To overcome such challenges, you need to include route optimization solutions in your business to have an efficient and effective schedule and delivery. These solutions help you reduce fuel, labor, and, most important, vehicle maintenance costs.
Moreover, an optimized route solution helps drivers with clear instructions on road mapping and helps reduce overall transportation costs for your business.
Improvement in Customer Service
With the new inventions in this technological world, customer expectations are rising to another level.
In short, the customers need faster deliveries and speedy response time. These factors are essential to enhance the business productivity and also a better experience for the customer.
The route planning software solution helps you to achieve such goals. Moreover, such a solution enables you to deal with tight schedules and make changes to the route without affecting your overall schedules.
Just remember that a bad delivery experience makes your customers turn out to your competitors.
Helps You Perform Better Planning
Planning is most important if your business is involved in taking multiple destinations in one day and needs to be on top of the ever-growing pile of destinations.
Creating better planning strategies makes it easy for you to manage deliveries to multiple destinations quickly and efficiently. Route optimization solution helps you to organize and arrange all your destinations with multi-stop routes for the day.
You need to input your address and let route optimization software do all your hard work to provide the best delivery routes. Then, it provides you with the output by considering the time, distance, and location.
You're going to save more time on the roads and be able to achieve all your destinations.
Increase in Business Productivity
It's 100% sure that your business will be having multiple tasks to be performed daily. However, to perform such tasks, a list of destinations will also increase gradually, making it challenging for you to tackle that situation.
A proper and accurate route planner helps you overcome such challenges. Nowadays, route planners have more addresses and multiple stops than ever. Google Maps is a route planner that works on a stop-by-stop basis with limited features, and it just shows you only the path from source to destination.
Route planning solutions help you to reach 20, 50, or even 100 places in one day by considering various factors like time frames, driver shifts, the number of stops, and even stop changes.
The primary role of the route planner is to ensure that your business is reaching all the destination points and efficiently organizes the stops based on your location.
Increased Safety
Consider the scenario that you are sending your drivers to reach the destination without any means of direction. It will result in a significant loss of time driving, effort, and, most importantly, stress as they need to face unfamiliar roads, bad traffic, road closures, and road diversion.
This often leads to anxious drivers, and there exists more chance of risk on the road, for themselves and others. Safety is the top priority aspect that you need to focus on in your business, and it is possible by having a clear route.
If you have proper route planning, you and your drivers can easily predict the one route that is easy to use. So, it becomes easy to plan your shortest route accordingly to minimize risks and maximize productivity potential.
Many times, a big confusion exists between route planning and route optimization. To remove such confusion, we have come up with the difference between them in the next section.
Difference Between Route Planning and Route Optimization
| Route Planning | Route Optimization |
| --- | --- |
| Prepares the drivers to handle their delivery orders in a standard manner. | Uses algorithms to handle thousands of changing parameters like vehicle weight, route traffic, route distance, delivery window times, vehicle mileage. |
| It helps you find the shortest distance between the routes without considering other factors. | It helps your business increase the efficiency of your delivery or field service. |
| Customers can effectively receive delivery quickly and efficiently planned. | Enable customers to pick out specific delivery windows (date and time) at checkout. |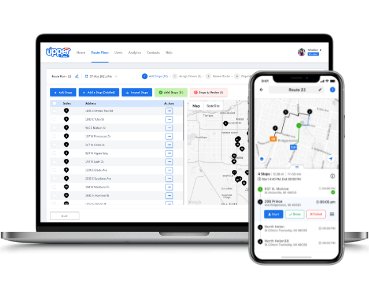 Upper Crew
A Simple-to-use route planner that every one is talking about.
Save up to 95% of planning time
Save up to 40% of time on the road
Plan 500 stops at once
No credit card details required
Who Can Use Route Planning & Optimization Software?
The companies involved in delivering services or goods with one or more stops to reach the destination locations can effectively use route planning software. The different types of companies that use routing software are:
Small couriers
Food or meal delivery
Retail stores
Flower delivery
Alcohol delivery
Healthcare and Pharmaceutical
Laundry/Cleaning
Field sales
eCommerce
What are the Different Methods to Plan Your Route?
There are multiple ways to plan a route. It depends on who you are and what your needs are. Let's start by breaking down the methods that some people use right now.
Pen and paper
Excel
Google Maps
Route Planner App or Software
Pen and paper
When you use pen and paper to plan routes, this takes a significant amount of time to analyze, prepare, and share your drivers' route directions.
You also need to consider other essential factors like traffic, weather, construction, and customer availability. It's going to take a long time if you have more customers and multiple drivers.
This method is specifically not meant for businesses that have more deliveries daily. And also, map visualization is not possible with this method.
Excel (Spreadsheet)
Excel is a fantastic software that many businesses have used for decades to solve a plethora of problems.
Many companies have some internal software such as CRMs from which they will download some addresses, and they use a printout of a sheet to give as a route plan. However,
Excel does require a lot of manual manipulation.
Efficient route planning and optimization do not happen in excel. You also don't have a visual map. This makes it hard to find the location of the next stop, of course.
Google Maps
Whenever we think about route planning, the first thing that comes to mind is using driving directions tools like Google Maps or Mapquest. But, unfortunately, such tools provide limited additional features and also route optimization is not possible.
Google Maps provides you with a straightforward route with turn-by-turn navigation from between two points and can work, even if you have multiple deliveries for a day. This driving
direction tool will help you get a map, a road-trip summary, and the driving directions (or routes) to multiple locations in the satellite map or hybrid view.
Route Planner App or Software
In this technological world, why not use mobile apps?
There are many Route Planner Apps on the market today that offer excellent solutions, and as a user, it will be up to you to explore the features that fit your specific needs.
These route planning apps are available on Apple (iPad or iPhone), Android, PC, whichever platform is best for you. Ideally, they have a smartphone component as well. Most apps have a free trial you can try.
Great apps like Upper Route Planner will provide routes, route summary or overview, itineraries/driving directions, routes, route options that may apply to you, addresses, map options, multiple languages, and all the rest of the optimization features.
Of course, one thing you want as a business is to capture the email address during the subscription process, and the software will help you do this on your website or otherwise.
After looking at the detailed information on route planning, if you have any questions related to the same, we have frequently asked questions in the next section.
---
FAQs
Google Maps – For multi-purpose
Upper Route Planner – For delivery businesses
Badger Maps – For field salespeople
RouteXL – For delivery
MapQuest – For road trips
The steps involved are relatively straightforward:
Step 1: Addresses: Gather the addresses of all locations or stops you need to make.
Step 2: Additional requirements: For instance, you will want to know where to leave the product if you're making a delivery.
Step 3: Plan and Optimize: You will want to use a route planner to calculate the best route for you at this stage. A good route planner will consider all the essential routing details.
Step 4: Execute: Now, you're ready to go!
On your computer or mobile, open Google Maps
Click Directions
On the left, below the destinations you entered, click Add
To add a stop, choose another destination
To continue adding stops, repeat steps 4 and 5
Click on a route to get the directions
---
Route Planning Helps You Move Forward Quickly
I hope that gives you more background on what route planning is and how it effectively helps your logistics business.
We hope this will help you save time, hours and money to find the best route option for you. Moreover, it allows you to get from location to location in the most efficient manner, review cost options, and ultimately get you moving forward in your life and business.
Moreover, it becomes easy for drivers to reach the destinations with multiple stops with Upper Route Planner and help save time and increase business productivity. The software solutions allow you to locate the drive time, spend less time on driving, and deliver the products to the customers on time.